Having a strong corporate culture is very important to the success of companies. Not only does it attract new talent but it also retains your highest performing employees. Having a toxic workplace culture can lead to un-happy employees which in turn will affect company profits. With many companies implementing the hybrid workplace model, it is vital that they set up a strong hybrid workplace culture with it.
What is a hybrid workplace?
The hybrid workplace model, also known as flexible working, is a workplace model that allows employees to have a mix of working from home and in the office. Generally, this hybrid workplace model allows employees to work from home 2/3 days a week and in the office for the rest. However, because it is so flexible it can vary depending on the workplace. The hybrid work model gives employees more freedom. Employees decide when and where they want to work. Employees now have the opportunity to work around their lives, with flexible hours and days. Many companies' employees are now demanding a hybrid workplace. In a survey conducted last year showed that 55% of US workers want a mix of working from home and in the office. Gensler carried out a UK workplace survey and found that two thirds want a hybrid of home work and office work. Only 12% want to work from home full time. This suggests that the majority of companies are going to have to implement some form of a hybrid workplace model in order to succeed.
What are the benefits of a hybrid workplace?
There are many benefits of the hybrid workplace model. Giving your employees the flexibility of where they work being the top benefit. Companies can now hire employees from anywhere, meaning more access to talent. Hybrid working can reduce the companies' overall costs, with less staff in the office at one given time means less real estate requirements. These are just some of the benefits associated with a hybrid workplace, have a read of our blog on "Flexwork – New Year, New way of Working!" where we go into more detail on the benefits of a hybrid workplace.
Potential Risks of a Hybrid Workplace
Introducing a hybrid workplace model like everything has its risks. Now that employees are spending less time in the office means fewer physical interactions. It may lessen the chance of ideas generated in the office at those water cooler breaks or employees bouncing ideas off one another. Another potential risk of a hybrid workplace is employee burnout and finding it difficult to switch off when working from home. However, by setting up the right culture within your hybrid workplace will prevent these risks form happening.
Setting up a hybrid workplace culture
Communication
Communication is one of the most important aspects of setting up a hybrid workplace culture. The in-person culture must now continue online. Those face-to-face interactions had in the office which can be vital at times to successful organisations, can continue online by implementing the most appropriate tools to support online communication between employees. Video conferencing tools are becoming widely popular among the majority of companies since the beginning of the pandemic. This is so they can continue to have effective communication strategies. When possible, companies should try and keep communication to one specific platform for important information. By choosing one specific platform, there is less of a chance that employees miss these messages.
Technology
Companies are going to have to add many new types of technologies to their current business strategy in order to have a successful hybrid workplace culture. Tools that companies would never have even thought of implementing before are now top of the list. One of these tools being a hybrid working management tool, such as Ronspot. Taking the hybrid approach means companies now have to manage who can come into the office on certain days of the week. This is quite a big task to ask one employee to manage through Excel. Furthermore, the cost of hiring an employee to do this would be quite a big expense for the company.
Implementing a desk and parking management tool like Ronspot into your new business model is one of the first steps every company should take when setting up a hybrid workplace culture. By implementing a system like this you are giving your employees the choice of when to attend the office hassle free, while keeping cost's low, as a system like Ronspot is far cheaper than hiring an employee to do the same job. The unique thing about Ronspot is not only can employees book desks, but they can also book their parking space along with it, which for many employees is just as important as having a desk. This can be all completed within the same app. Another great feature of Ronspot's is the custom messages.
In the previous section we spoke about how important communication is when setting up a hybrid workplace culture. When using Ronspot the HR team now have a way to communicate with all employees in the company under one system in regard to desk and parking policies. Companies not incorporating a tool like this will struggle to have a successful hybrid workplace.
Training Managers and Team Leaders
Like we spoke about in the previous section technology is a huge factor when it comes to setting up the right culture within a hybrid workforce. Companies need to provide the right tools for their managers and team leaders, while also training them to manage a hybrid workforce. For team leader's it is going to be quite hard for them know exactly where their team is based on any given day, whether some of the team are in the office or others are working from home. This may work for a team of 5 or 6, but for a team of 30+ employees it will be very hard for that team leader to know the exact working schedule for each of their employees.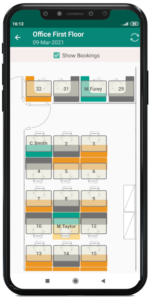 Instead of using multiple Excel sheets to manage this, by already incorporating Ronspot for desk and parking issues you can also manage this within the Ronspot app. Team leaders can simply log into the Ronspot app and see who from their team is in the office and where they are sitting. This makes it far easier for companies to set up that hybrid workplace culture, team leaders now don't constantly have to be messaging their staff asking them whether they are in the office or working from home. Ronspot is cutting out the time wasted on this task.
Virtual Events
Normally companies would have held events within the office pre-pandemic, however due to the pandemic this could no longer happen. Even though the end of the pandemic is somewhat in sight, which will allow for companies to hold these events once again, it is still very important that companies continue to have virtual events as well as physical events. The pandemic has fuelled the hybrid working approach, which allows employees to work from anywhere, meaning they may not be able to attend physical events due to the commute. To build good company culture and a good community within the company, virtual events should still be held for hybrid working employees.
Evaluate the Success of Your Hybrid Workplace
Once you have implemented your hybrid workplace strategy it is vital that you evaluate the success of it after the trial period. This will help companies see how their company culture is, what changes need to be made and what benefits have come from implementing this new way of working. To find out if this strategy was a success companies could look at a number of metrics. Like whether employee productivity increased, an increase in revenue, lower office costs due to reducing real estate, utilities and the cost of hiring employees should now be lower.
To conclude, the hybrid workplace is the future of the office. It is poised to be the number one demand of employees going forward. It is vital that companies pay attention to setting up a successful hybrid workplace culture. This culture will help to retain employees, keep employee morale high and keep up with competition. Following the five steps that we spoke about in this blog should help you in setting up a successful hybrid workplace culture.
Enjoy reading our blogs? Have a read of our most previous blog on Ronspot Freemium – The Free Parking and Hot Desking Manager and set up a trial account.