Office Parking Management & Hot Desk Booking made simple
One platform to manage office parking and hot desk booking, and allow employees to reserve parking and/or workspace directly from their phone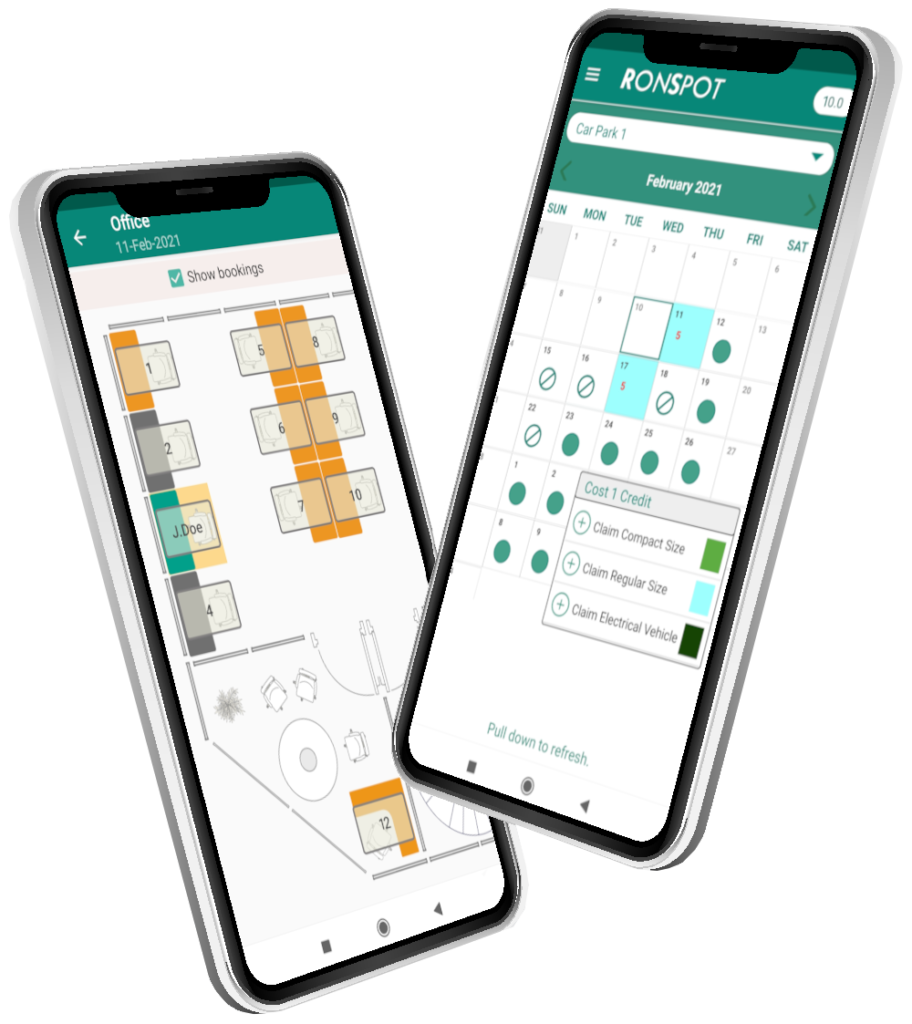 Make your office parking fair, easy and stress-free
Keeping your employees happy with guaranteed parking via an easy-to-use application is the best advantage of using our smart parking system. Your employees can view live availability and reserve parking when they need it, taking the stress out of allocating spaces and dealing with frustrated staff with nowhere to park.
Real-time availability
After installing our parking management app on their phone, employees can view live and up-to-date availability of parking spaces and manage their parking schedule easily via a real-time calendar.
Reserving a spot with a tap
5 seconds is all it takes for your employees to book a parking spot. They can pick a date with a simple tap on the live calendar from 30 seconds to 90 days in advance and the app will automatically allocate a parking spot to them.
Maximum occupancy & Fair allocation
To ensure a maximum occupancy of your car park and a fair parking allocation between employees, the Ronspot app uses a clever system of free credits to limit the number of spots that can be booked in advance by a same employee and offers unlimited short-notice bookings on a first-come, first-served basis.
Make your employees feel safe to come to work
Ronspot Hot Desk is the best desk booking solution to help your employees reserve desks throughout the day and stay safe during and after the COVID-19 pandemic following social distancing rules.
Easy to use
Design your office with social distancing guidelines in mind and we'll map out an interactive floor plan of your office. Our desk hoteling software can support multiple floors, buildings, offices, and time zones. Employees can then log in to the app, select a desk directly on the map and reserve it with a simple tap.
Social Distancing
Desks are made available at alternate times to keep employees safe in the office. Once a desk is booked all the desks within the social sphere will become automatically unbookable for other employees.
Real-time availability
Our desk booking app shows real-time availability of desks and clearly marks which desks are free to reserve. Employees can book on the same day and up to 90 days in advance.
Desk allocation
To make sure every employee has the same chance to go to the office and book a desk, they are automatically issued a number of free credits each month and can make a limited number of bookings in advance using these credits and as many short-notice bookings as they want on a first-come, first-served basis.
Why choose Ronspot Employee Parking & Desk Management app?
We streamline and optimize the use of employee parking spaces in corporate environments while incorporating desk management solutions.
Therefore, if you work for a company with limited parking spaces, desk management issues or want to control workplace social distancing, we can help.
Guaranteed Parking & Desk
The Ronspot app uses an allocation system that guarantees parking spaces and hot desks for your employees. The credit system is transparent and easy to understand.
Ronspot ensures maximum occupancy of your available parking spaces and desks. Your employees can claim or release spaces instantly, reducing costs for both employers and employees.
With Ronspot, you can view live and up-to-date availability of parking spaces and desks, and let your employees manage their schedule through a real-time dashboard.
If an employee finds someone parked in their reserved spot, they can simply flag the violation on the app to let the offender know. Ronspot will automatically assign a new parking spot if one is available.
Book a Free Demo
Set up a 100% free demo session today to learn how the Ronspot App can transform the well being of your employees.
We will walk you through the app, show you how it works and help you craft configurations in a way that best benefits your organisation.
Solve your employee parking problems with just a few clicks. Managing your office parking spaces is easy with Ronspot.
Ronspot app is easy to use

—

the employee enters their details and chooses when they need a parking spot. Once selected and confirmed, the app will allocate a parking spot to them. 

Employees use free, but limited, credits to reserve parking spaces. Reserving parking on the same day does not use any credits. 

If an employee doesn't need the parking spot they reserved, they can release it and get their credits back.

If someone has parked in a reserved space, the employee can report a violation on the app. The owner of the vehicle will be emailed and another space will be allocated if one is available.
Award-winning tool trusted by the worlds leading companies
Employees love the App, and have improved their parking experience at their workplace
Drop in unused parking spaces thanks to Ronspot
Helping thousands of employees from fortune 500 companies each day