Discover the list of hardware and software integrations you can use with Ronspot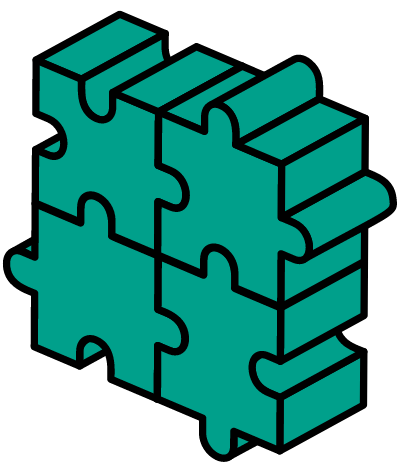 Automatic Number Plate Recognition (ANPR) System
Ronspot can be integrated with a vehicle registration plate reader and parking barrier. The system is capable of:
Reading the vehicle registration through a camera,
Then opening the car park barrier in real-time
Provided the employee has made a booking in advance.
At SSE in Perth, Scotland, Ronspot has integrated seamlessly with their parking barrier system. The system uses optical character recognition (OCR) on images taken by the security cameras, allowing the barrier to open.
Integrating with the parking barrier and ANPR system provides automated security. Moreover, the limited access ensures that no outside personel make it in to the car park.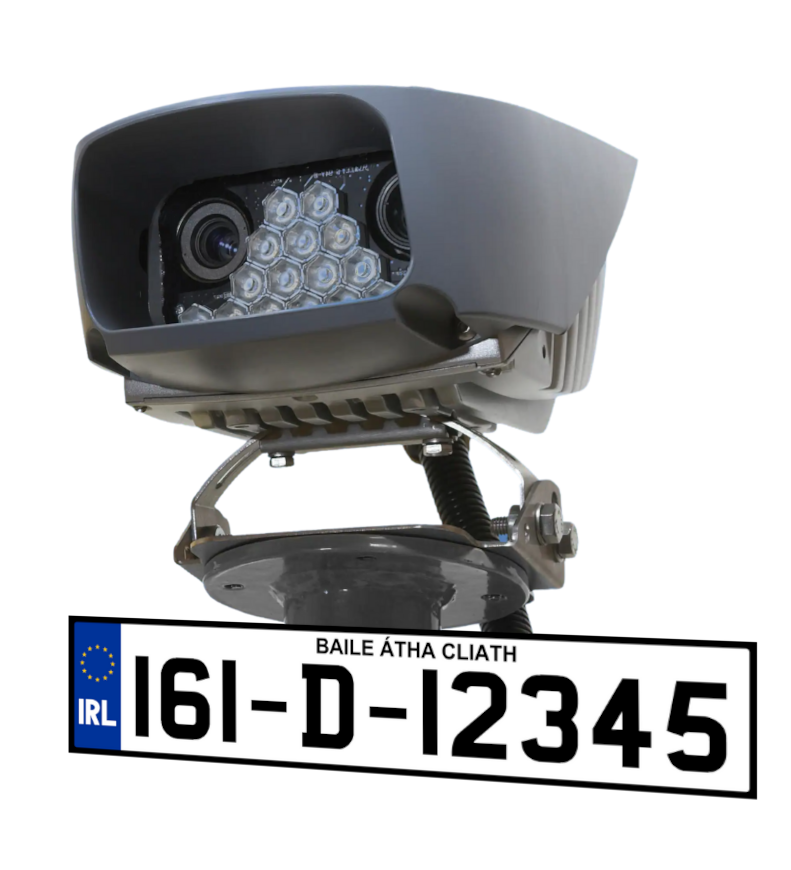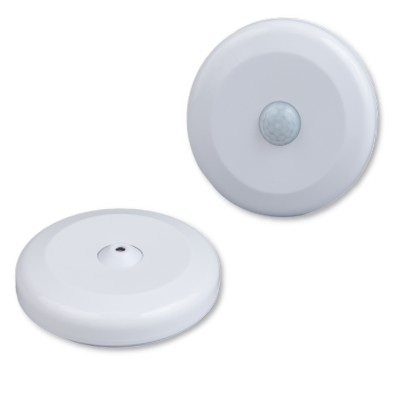 Desk sensors can be integrated with Ronspot. These sensors can monitor when an employee uses their desk, to ensure the employee is using their bookings.
These sensors are great for maximising occupancy and ensuring an efficient use of bookings.
The desk sensors are fitted under the desk and contain a small sensor that can monitor movement. Setting up the desk sensors is simple:
Sensors are fitted under the desk
Each sensor contains a code that ties it to a specific spot
The sensors connect to the public IoT in the office space (not external)
Each sensor has a 5-year battery life.
So with these sensors, companies can conveniently monitor their desk usage. Moreover, this information can be used by the company to make real-estate decisions.
Swipe Access Systems are used by companies to provide onsite access to employees. These security measures can prevent unauthorized access into buildings for companies. These systems are capable of integration with Ronspot.
By integrating with Ronspot, the swipe access system can provide access to those who have booked into the office in advance. Additionally, the system monitors who exactly swipes into the office each day. Making contact tracing, occupancy reports, and cleaning reporting accurate and simple.
To sum up, Ronspot will:
Integrate with the swipe system
Grant access to employees who have booked in advance
Monitor who has entered the building at each swipe access point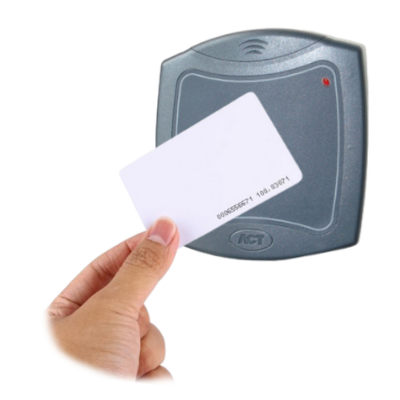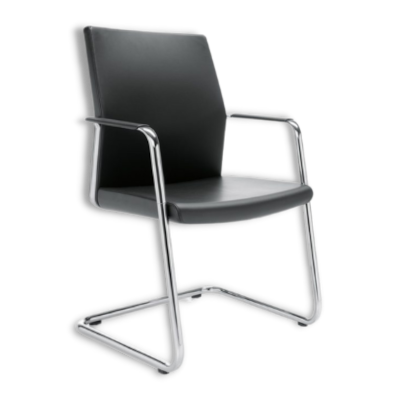 Seat Sensors – Meeting Rooms
Seat Sensors are another possible integrations with Ronspot. This integration is most commonly used in meeting rooms.
The purpose of seat sensors are to measure attendance and usage in meeting rooms.
Setting up these seat sensors is simple:
Seat sensors are attached under the seat
When a seat is moved or in use, the sensor will measure this
The measurement will be triggered in Ronspot and will highlight the meeting room in use
These seat sensors will also have a 5-year battery life and are easy to install under seats and chairs. Like the desk sensors, seat sensors will have a unique code for each seat and be connected to the internal public IoT.
Ronspot is capable of integration with all major single sign-on providers. This features is something a lot of our current customers use to make onboarding easier. Moreover, to give employees less usernames and passwords to manage.
Single sign-on makes it simple for employees to get setup with Ronspot.
Currently, Ronspot is compatible with:
Google
Microsoft (Azure AD and on-premises AD FS)
Duo
Okta
OneLogin
Currently, the team is developing a way of adding users to their work group automatically once they register with single sign-on. These groups can then be managed in Ronspot, allowing different rules for different departments.
We are always looking to make add to our single sign-on capabilities, so if you use a different SSO at your company, feel free to let us know.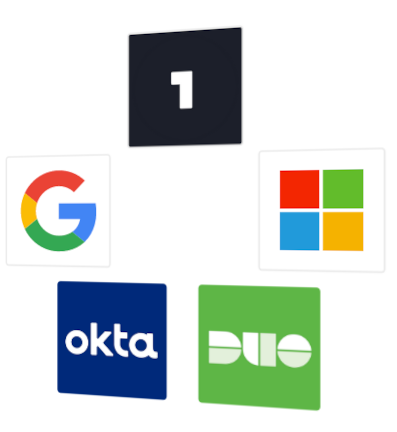 Co-Branding is another software integration available with Ronspot. This allows your organisation to use it's own company branding in the Ronspot app.
Typically, co-branding will feature on the employees side of Ronspot. These employees are using the app regularly on their phone or desktop.
To co-brand with Ronspot, it is simple. In the account settings, you will see the option to upload your company logo. When uploading, make sure to use a high quality image for the best results. (.png or .jpeg). Click save and when refreshed, the software will show your logo for all users, making the desk booking or parking reservation system company branded.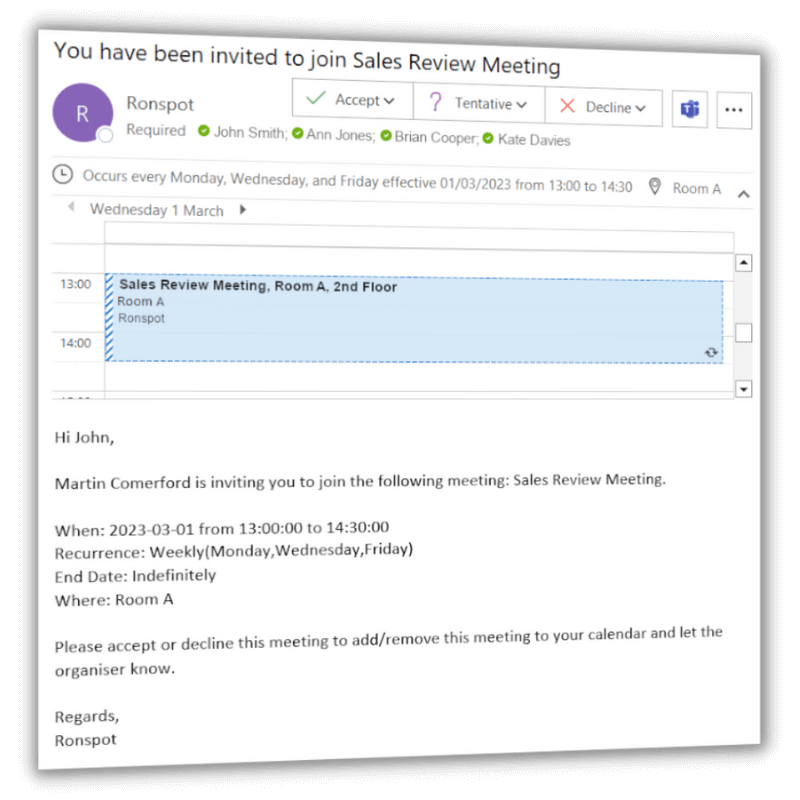 Integrating with the company employee's calendar is an extremely useful integration for both admins and employees.
Calendar integrations is used for desk, parking and meeting room bookings. For parking and desk booking:
Ronspot integrates with the employee calendar
When an employee makes a booking, this is automatically visible as a placeholder in their calendar for the whole day
These all day bookings don't interfere or conflict with the employees other meetings or schedule for that day.
As for meeting rooms:
Once booked, each participant receive a calendar invite. They are given the option to accept or decline this booking to add it to their calendar.
This feature is available in Outlook, Teams, Google and, Windows calendars. The aim being to make booking with Ronspot as simple and convenient as possible.
Ronspot can be integrated with your company's HR systems.
These systems allow your office to seamlessly link the collaboration tools with their hybrid office booking.
To learn more about these integrations, contact us on the form below and let us know what integrations you are looking for.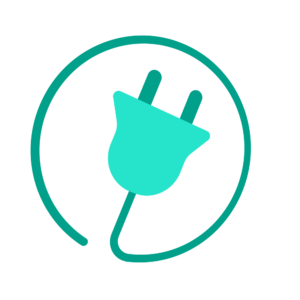 Any Questions About Integrations?
Just fill in your details below and let us know what integrations you want to learn more about.