The flexible Meeting Room and Conference Booking System
Facilitate better collaboration in the workplace with Ronspot Meeting Room Booking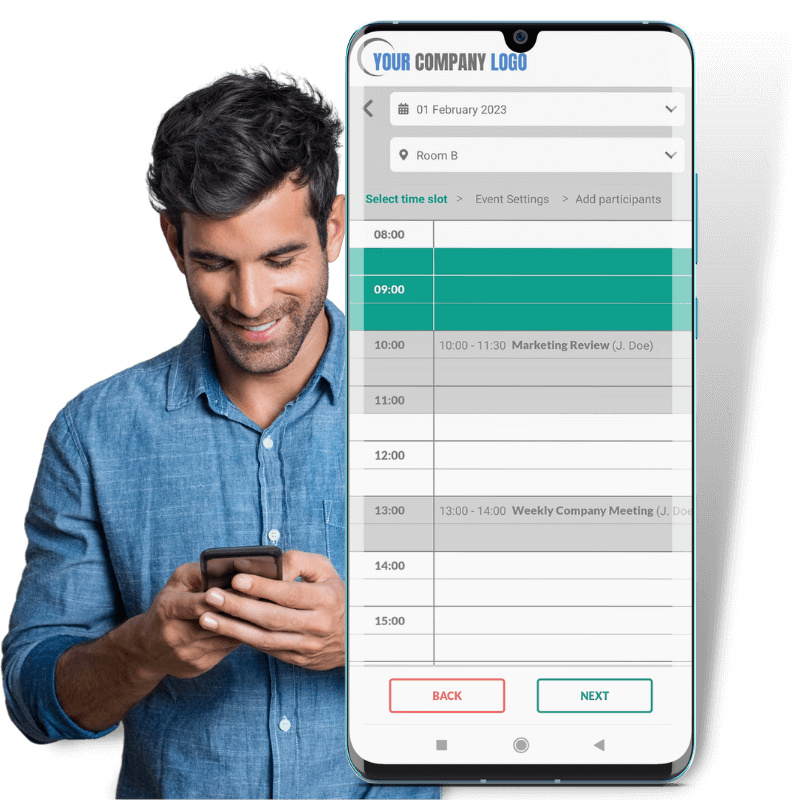 Increase team collaboration with Ronspot Meeting Room Booking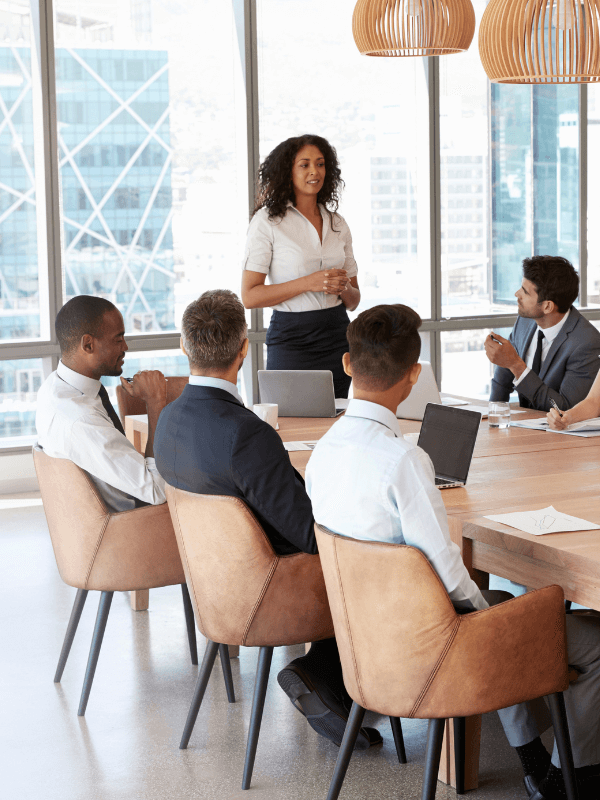 Empower your staff to collaborate
Give your employees the ability to view at any time the live availability of meeting rooms, and book a room for the duration they need.
After selecting an available timeslot, the meeting organiser can set the meeting recurrence and invite participants in only a few clicks.
After scheduling a meeting in Ronspot, invitations are automatically sent to all meeting participants by email and synced with their calendar. Similarly, meeting room bookings made from an Outlook calendar can be synced with Ronspot using Microsoft Exchange.
Native integration with Ronspot Desk Booking
Ronspot meeting room booking system is fully integrated within our desk booking system, allowing employees to select and reserve a desk and a meeting room directly from the same interactive map.
Customer support, training and data security
Ronspot comes with fast onboarding, training sessions, and 5-star customer service, ISO 27001 certification, and GDPR compliance.
Meetings made easy with Ronspot
View real-time availability
Say goodbye to double bookings and meeting overlaps. With Ronspot meeting room booking, employees can view at a glance the availability of every meeting room up to 90 days in advance.
Select an available timeslot
From the Ronspot mobile app, employees can easily select an available timeslot on an intuitive time grid. The name of other meetings and their organisers are visible to the employee.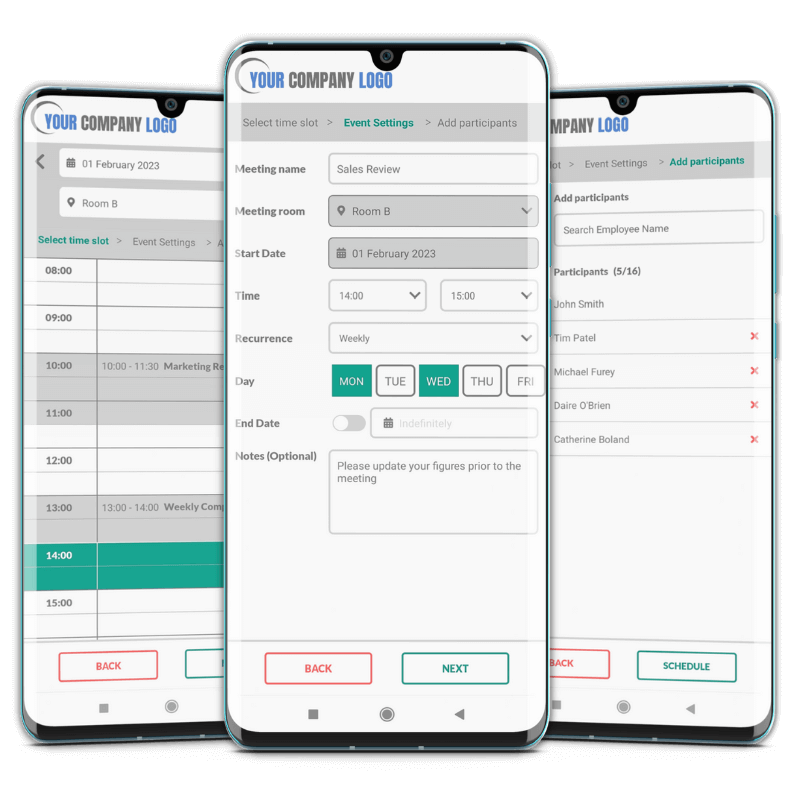 To schedule a repeating meeting, the organiser simply needs to select the Recurrence option and select the frequency of the meeting (e.g., none, daily, weekly or monthly).
To make the booking process easy, the organiser is shown a list of all the employees who have access to this office and can simply select the participants from the list. A maximum occupancy limit can be set for each meeting room (e.g. 16 seats) in order to limit the number of participants.
Reduce admin and increase efficiency with Ronspot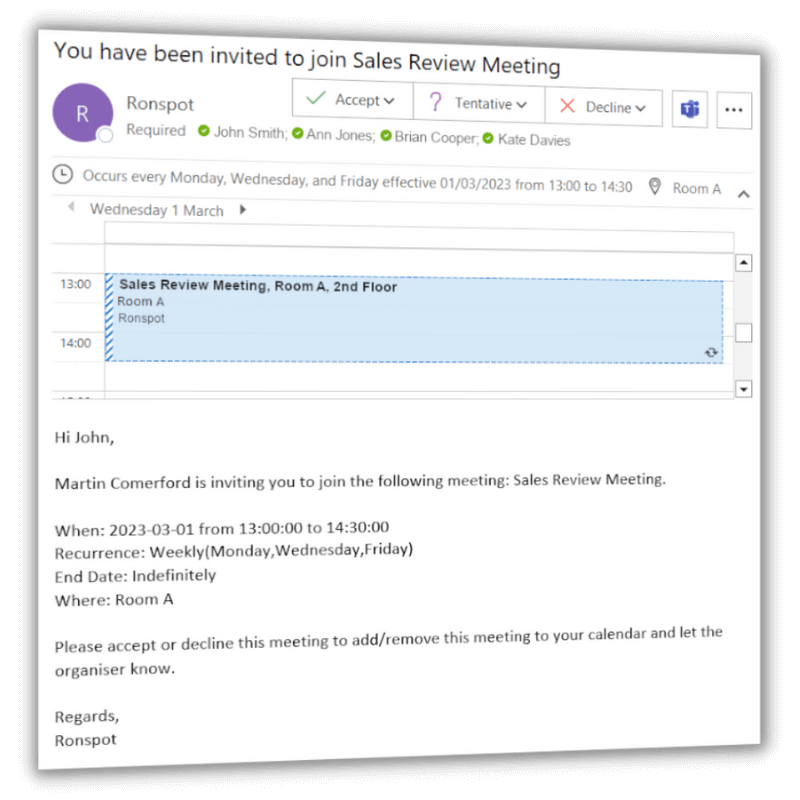 Sync your meetings both ways
All participants will automatically receive a meeting invitation by email and will have the option to accept or decline the meeting. As a result, accepted meeting will automatically be added to the employee's calendar, e.g., on Outlook, Microsoft Teams, Google and Windows calendar. Additionally, bookings made in Outlook can be synced with Ronspot using Microsoft Exchange.
Reschedule or cancel a meeting
To ensure the best flexibility, meeting organisers can cancel or reschedule a meeting in just a few clicks. For recurring meetings, they have the option of editing the current occurrence, or the whole series. As a result, participants are instantly notified and their calendar is automatically updated to reflect the changes.
Easy to implement, easy to maintain
Ronspot is directly operated by employees and comes with full onboarding assistance, training sessions and no setup fees. Administrators can also restrict the list of employees who are allowed to schedule a meeting. Additionally, meeting rooms are directly integrated within Ronspot Desk Booking System, allowing employees to book desks and meeting rooms from the same interactive floorplan.
Schedule a demo with our team
Click on the link below to view the availability of our team and select the day and time that suit you best. We'll show you how the software works live and the features that are relevant to your company.
Frequently asked questions about Meeting Room Booking
We have listed below all commonly asked questions and answers about our meeting room booking system.
If you can't find the answer to your question, please feel free to contact us.
With Single Sign-On (SSO)
If your company is using Single Sign-On, then you simply need to tap on the Microsoft, Google, Duo, Okta or OneLogin icon on the app login page.
Without Single Sign-On
If you are not using Single Sign-On, then you need to register using your work email address. As a result, Ronspot will automatically detect the email domain and assign it to your company's account. For security reasons, the account will have to be activated manually by the administrator before you can access.
Your company can upload a floorplan of the office to Ronspot containing the different meeting rooms. This allows you to view the interactive map and select directly from the map the meeting room you wish to book.
If your company also uses Ronspot to manage their desks and/or parking spaces, you can view directly on the map other employees' bookings.
Alternatively, you can also use the "Search bookings" option in the app menu to look for a colleague name and see which days they have booked.
Meeting room bookings are unrestricted, employees can book as many time slots as they need every day.
Depending on the plan selected by your company, you can make booking up to 90 days in advance with Enterprise, 14 days with Premium and 3 days with Community.
When scheduling a meeting, you will be presented with a grid containing all the available time slots for the current day. Click on an available slot and then edit the start time and end time of the meeting (time slots of 30 minutes).
Yes, you can. If you tick the "Repeat" option, you will be able to choose between a daily, weekly and monthly recurrence.
During the reservation process, you will be presented with the list of employees who have access to this office.
Simply tick the colleagues you wish to invite to the meeting and press "Confirm". The number of participants is restricted by the room capacity limit set by the administrator.
A meeting invitation will automatically be sent to all the participants by email.
Yes, a meeting invitation will be automatically sent to the organiser and the participants by email and can be accepted or declined. Accepted meetings will be automatically added to the employee's calendar (Outlook, Teams, Google, Windows) and to their Ronspot's account.
Yes, your company can set automatic reminders in Ronspot to be sent to employees who have a booking for the next day. These notifications can be sent directly on your phone or by email.
There are two main incentives in cancelling a meeting in Ronspot:
An updated meeting invitation is sent to all participants to inform them of the cancellation
The meeting time slot will instantly become available again in Ronspot for other employees to book.
Yes, your data is safely stored on Amazon AWS cloud server in Dublin, Ireland.  Your data can be fully removed from the system by the office manager when you leave the company.
If you are experiencing any issues with our meeting room booking software, simply navigate to the app menu and select the "Report a Problem" option. The Ronspot customer support team is based in Ireland and will answer all queries within 24 hours, Monday to Friday.
Desks and meeting rooms can be added within the same zone and booked from the same map, or can be added to a different zone.
After uploading a floorplan of the office to Ronspot, the administrator can select the desks and the meeting rooms on the same map.
Employees are allowed to book one desk and several meeting rooms per day
Yes. Our meeting room booking system allows you to manage several locations across multiple time zones in different countries from the same Ronspot admin account. Simple create different zones in your account, one for each location and restrict users to zones.
Zones are used to delimit the areas your employees can access. Depending on your needs, it can be different offices, floors, rooms, sections of a room, etc.
Once you have created your zones, you can give each employee access to different zones. As a result, employees will only be able to view and book meeting rooms in the zones they have been granted access to.
Map uploader
In the admin panel, Ronspot allows you to upload an existing floor plan for each one of your zones. Use the drag & drop tool to easily make every meeting rooms (and desks) interactive. 
Map builder
If you don't have a map, you can simply use Ronspot map builder and drag & drop desks, walls, doors, furniture, etc into a blank canvas.
Yes, you can set a maximum occupancy for each meeting room to limit the number of people who are allowed in at the same time. If you set the limit to 10 for example, the meeting organiser will be able to select and invite up to 9 participants.
Yes, you can. Simply edit the meeting room in the admin panel, select the "Restricted" option and select the name of the employee(s). This meeting room will only appear available in the app to the corresponding employee(s).
Once the different rules have been set by the administrator, our meeting room software operates itself and requires very little oversight. You can also appoint team leaders to oversee other employees' bookings and make bookings on their behalf.
Yes, simply click on the "Meetings" tab of the admin panel to view the list of scheduled meetings.
Yes, you can reach all your employees at once via the app using push notifications and/or emails. Useful for urgent communications regarding the office (i.e. contact tracing, etc.).
Yes, Ronspot is a 3-in-1 solution that allows employees to book desks, meeting rooms and parking spaces from the same app and allows administrators to manage all three from the same admin panel.
Yes. We have already integrated the app with different access systems for different clients. Feel free to contact us for any inquiries.
All the data is stored safely on Amazon AWS cloud server in Dublin, Ireland, using the highest standards for privacy and data security.
Ronspot is also ISO 27001 certified – a proof of our engagement in terms of data protection.
It generally takes less than 48 hours to set up your account. Once the account is ready, companies generally allow a 2 to 3 week onboarding period to inform their employees about Ronspot.
We offer 3 different plans (Community, Premium and Enterprise) for our desk booking system, starting from €0/month. You can compare our different plans here in order to find the best one for your company. Additionally, you can use our quote generator to receive an instant quote by email.