The growth of flexible working has resulted in the growth of co-working spaces. But what exactly is a co-working space?
What is a Co-Working Space?
Co-working space is a shared space between employees from different companies. The employees share the space, infrastructure, and equipment in the co-working space. These spaces can be cost effective for companies. Co-working space has become more popular recently as flexible working has been introduced. Similarly, the 'work near home' movement has increased the use of co-working spaces.
These co-working spaces come with a lot of benefits for businesses. See below:
Cost effective
For a small company, the thought of committing to a long-term lease in an office space can be daunting. For one, they may not be generating the revenue or have the funding to pay for this. With a co-working space, the cost of office space or desks is reduced greatly. In 2019, the cost of renting a prime office space on average in Dublin was €673 sq/m. Co-working spaces are much more affordable, as you will see below.
Hot desking
Many of these spaces provide hot-desking options. Hot desking is the idea of non-assigned shared desk space that anyone can use on a day-to-day basis. For a deeper look at hot-desking, have a look at our blog on hot-desking and desk management. Hot-desking is great for small companies that operate on a flexible working basis. This means limited desks can be shared amongst employees, without paying for a full-time desk space. In a co-working space, this can be particularly useful for freelance workers.
Office space
Coworking spaces often come with different options. This can include individual office space. These office spaces are designated for whole companies or start-ups. This space can be necessary for growing businesses who are expanding and increasing their workforce. This office space will then share all other amenities, like kitchens, bathrooms, and meeting rooms. This space is for those businesses that are wanting to settle in a fixed location.
Meeting rooms
Meeting rooms can be a very useful space for companies who work from home, but still want to maintain some form of in-person contact. These rooms are often available to book in co-working spaces. Typically, these can be booked by the hour, by the half day, or by the day. Meeting rooms can also be for client meetings and board meetings.
Popular locations
Co-working spaces are often available in popular locations. Which is good for those trying to attract talent without having unlimited resources to do so. Previously, many of these spaces were based in cities across Europe. Now, in Ireland, these spaces can be found throughout the country. For a full list, this article by ThinkBusiness goes through the spaces by county.
The Top Co-Working Spaces in Ireland
We've done some research and looked at some of the top co-working spaces across Ireland. It was difficult to do, but we whittled it down to just 6.
The PorterShed
Location: Eyre Square, Galway, H91 HY51
The PorterShed is a coworking and collaborative space for Technology focused Innovation Driven Enterprises. Based in Galway City and backed by AIB, it is a hub for scaling tech firms. Once described as 'a dump' in a Forbes article in 2015, the PorterShed is now buzzing with life. With over 80 members the hub has grown to meet its vision of a "start-up Mecca".
The PorterShed has over 30 hot-desk spaces for individuals to book. There are several different membership options for both companies and individuals to avail of. Pre-covid, the PorterShed was known for its events and rich peer-to-peer learning opportunities. Currently, safety precautions are in place to keep all members safe when onsite.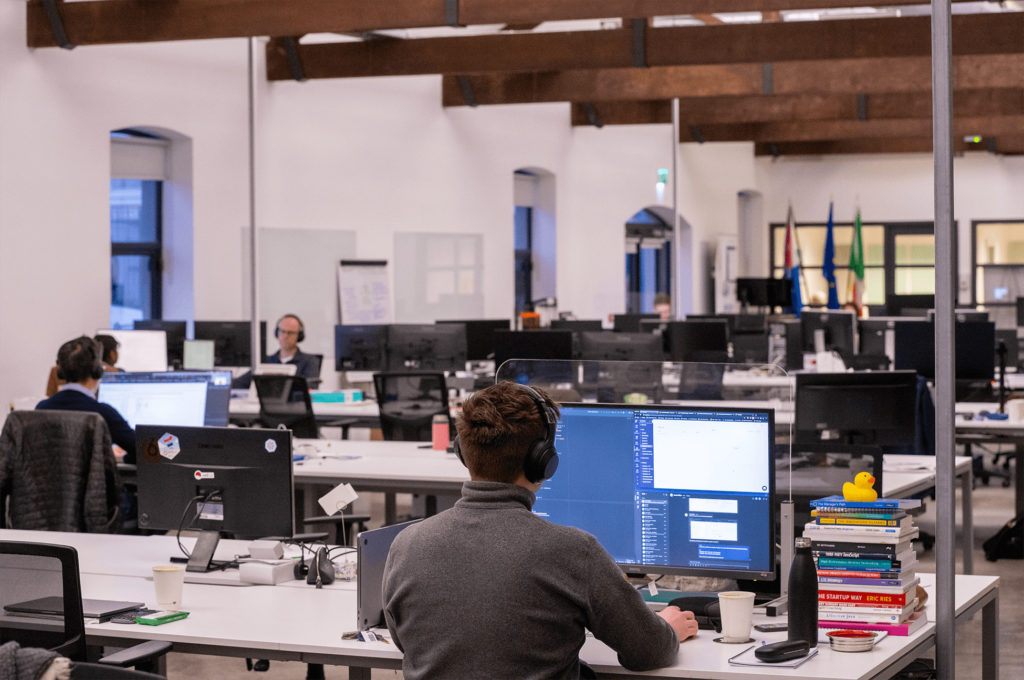 Iconic Offices
Location: Multiple Offices across Dublin
Iconic Offices have 16 locations across Dublin for all types of businesses. The office buildings are iconic by name and iconic by design. These spaces are modern and slick. This co-working space has commitment-free blended solutions for all businesses and budgets. Iconic Offices have a range of options for their members; private offices, co-working spaces, and day passes. The pricing starts at €249pp per month for co-working space. With this, you get a fixed desk in an open plan space. Here you can work alongside and collaborate with other like-minded individuals and teams. These come with all the expected benefits of a co-working space and more – like continental breakfast, coffee, and showers. Also, reduced rates for meeting room booking.
Iconic Offices offer state of the art meeting room experiences across their many locations too. Meeting rooms can be booked by the hour, by the half day, or by full day. These meeting rooms can come with wi-fi, refreshments, tv screens, and glassboards. Iconic offices have a wonderful aesthetic and are a very vibrant coworking space.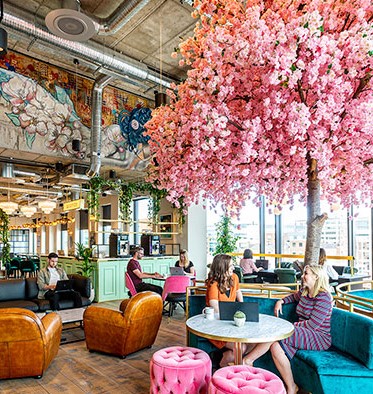 WeWork
Location: Office space across Dublin
WeWork have four office spaces across Dublin. In these offices are designated co-working spaces. These spaces allow workers to book hot-desks or designated desk spaces on a monthly basis. Both come with their own benefits. Hot desks give the member access to an open workspace where they can work alongside others. Dedicated desk space means you are guaranteed your fixed desk in a shared office space.
Shared office spaces can lead to strong working connections. These hot desks and fixed desk spaces can allow you to network with other businesses, entrepreneurs, and employees. These connections can be formed organically, by working alongside others or over coffee in the shared kitchens. At WeWork, there is an on-site community manager to help all members. These spaces allow members to make conference room bookings each month too. At WeWork, hot desks start at €400 per month and fixed desk spaces start from €480 per month. That's about €19 per day for a hot desk, which is extremely affordable for small businesses. Especially for those choosing to operate as a hybrid workplace.
WeWork offices are stylish and can be found in 'desirable neighbourhoods'. These spaces have micro brewed coffee and herbal teas. As a WeWork member, you can also book rooms in other WeWork locations. So, there is a lot of flexibility and accessibility at WeWork co-working spaces.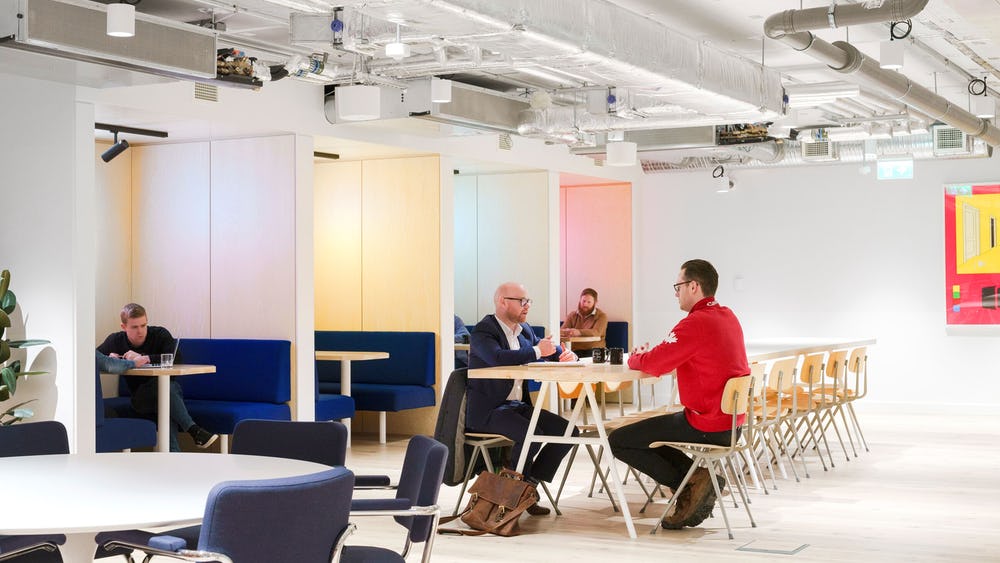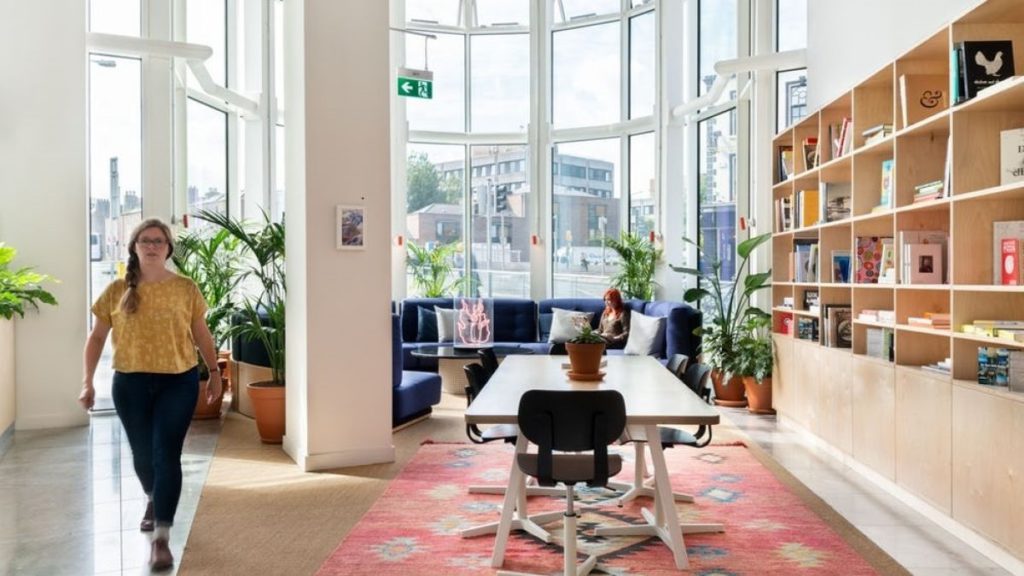 Dogpatch Labs
Location: The CHQ Building, Dublin 1
Dogpatch Labs is a hub designed to accelerate the development of Ireland's startup ecosystem by providing a valuable community from where you can grow, share knowledge and form connections. Dogpatch Labs opened in 2015 and has grown to have 250 startups and over 500 members. This year, Dogpatch were chosen by the Government to run the NDRC, Ireland's national accelerator programme. This means there is a very positive working environment growing in Dogpatch Labs.
Dogpatch Labs use both hot desking and fixed desking options for their members. Even more so, they will allow the public to try out their co-working space for free. Furthermore, members can avail of a lot of perks. Perks include:
Entrepreneurial Advice
Network and Connections
Expert Knowledge
Alumni Network
Workshop & Meetups
NDRC – Ireland's national accelerator programme
Dogpatch has several pricing plans for their members, including a Hot Desk Lite plan starting at €150 per month. This plan is designed for the flexible worker. It has 8 on-site day passes per month, 2 meeting room booking credits per month and post and package handling. This is great for the employee that wants to still visit the office scene, without travelling long distances to the office. There are other options at Dogpatch, going from hot desks to private offices. All of which can be viewed on their website.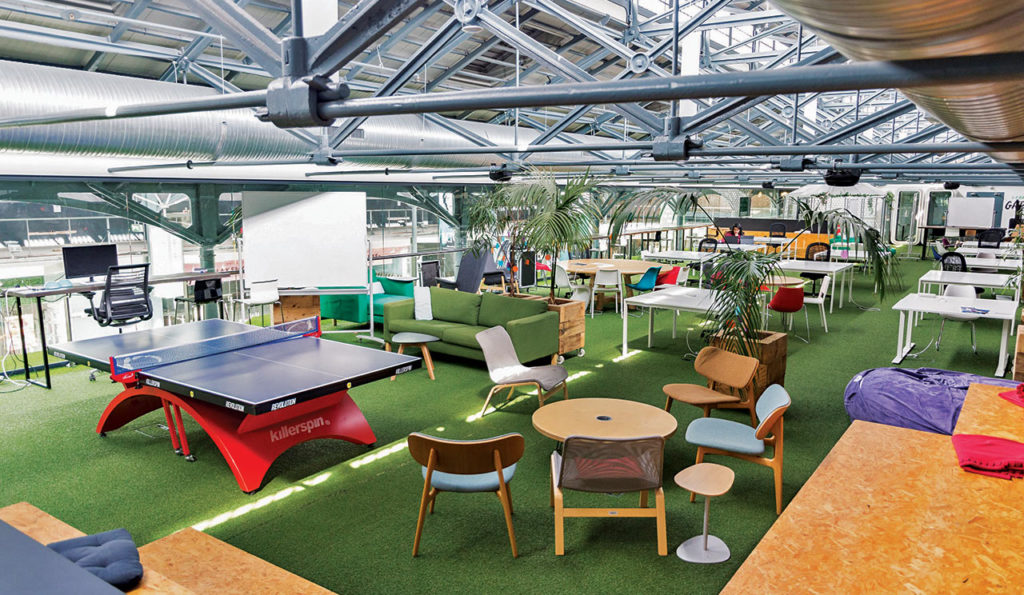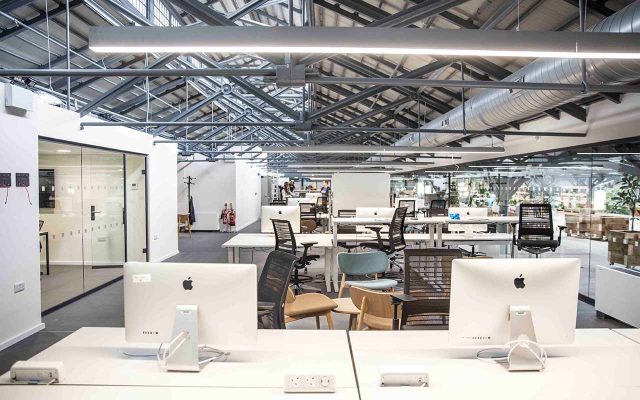 Huckletree
Location: Academy Building, Pearse Street, Dublin
Based in the centre of Dublin, Huckletree have created a space for high growth tech and SaaS companies to share their learnings, expand their networks, and build a vibrant culture for their teams. Huckletree has a range of private studios and flexible desk spaces, along with a range of membership plans. These plans start with €30 day passes and work up to a resident desk for €500 per month (exc. VAT). Meeting rooms are also available to book in the Academy Building.
As well as a collaborative co-working space, Huckletree has a lot of added extras. There is an on-site yoga studio where there are regular classes each week. Not to mention an auditorium space for an interactive workshop or a pitch session for workers to use. There is also a Zenn Garden on-site for workers to relax, meditate and just unwind. Huckletree offices can be found in other well-known locations around the world like Soho and Manchester.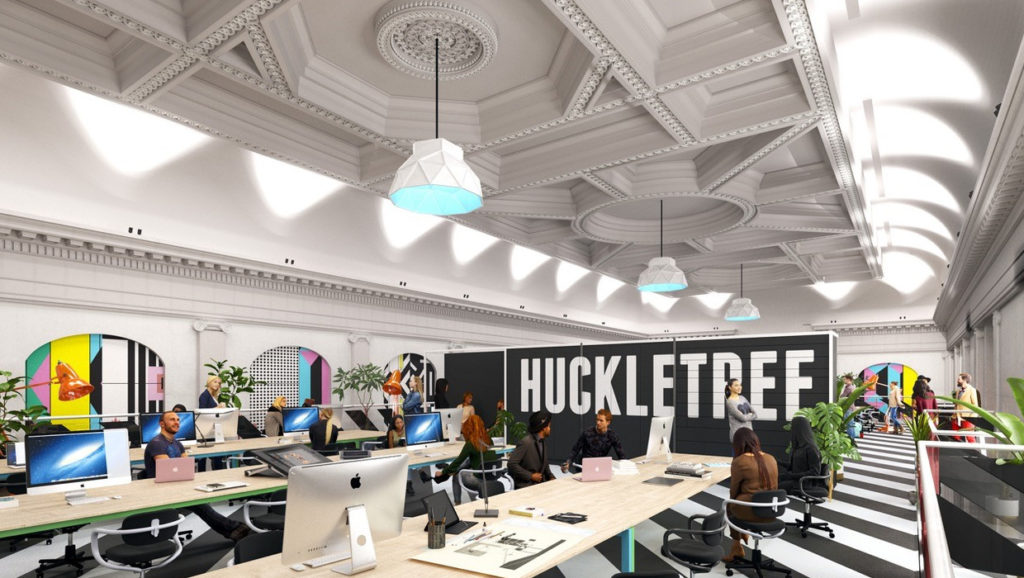 Republic of Work
Location: Cork
Republic of Work is a flexible work environment for like minded individuals. This co-working space in Cork is designed for flexible workers to have a space to work. This co-working space is great for small businesses and startups who wish to learn from other successful entrepreneurs. Republic of Work offer three plans, starting from €99 per month for the Flexi package. The top package is €399 per month for the resident package. This includes unlimited access to the business lounge along with a dedicated desk space.
The business lounge at Republic of Work is a space for members to meet and speak with each other. The aim is to grow connections and grow your network while flexible working. This co-working space is in a great location in Cork City for young startups and hybrid working employees. Take a virtual tour today and see more about the location and their offices.