Hot-Desking Vs. Desk Management in a Social Distancing Workplace
In normal times, hot-desking is a system which involves multiple employees using a single workspace during different time periods.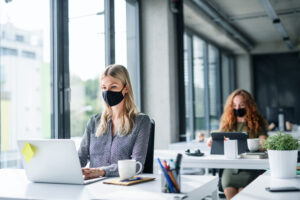 Hot-Desking and Social Distancing
A practice that has increased in popularity recently as companies begin to plan for moving back to the physical workplace. At the time of writing,  a maximum of 15 people are allowed to gather indoors. These people must be socially distanced at all times. Therefore, offices with a lack of space may implement hot-desking. This gives staff an alternative to working from home, which for some has been difficult. Take parents with young children for example, or employees in small apartments with little space. The workspace can be occupied by staff daily, giving the team the opportunity to work in the office at some stage throughout the week. 
Does Hot-Desking Work?
Hot-desking has had it's doubters, with some believing it is impractical and that it makes COVID-19 contact tracing very difficult to implement. Others saying it makes it hard to adhere to social distancing. This may be the case if not managed appropriately. The good news is hot-desking can be traced using Ronspot. Ronspot allows employees to book their office space daily whilst also ensuring that no nearby spaces are bookable, unless they are socially distanced. The software can be used to trace who used the office space day-to-day whilst also preparing cleaning reports. These cleaning reports show which office spaces were used on any given day and must be cleaned and sanitised before future use. 
Social Distancing with Desk Management
Desk management is a second option. Desk management means employees who have their own desk or office space can book this out for the day. However, unlike hot-desking, employees do not share a desk. So, this means employees use only their own desk.  Yet, many firms may not have the space to accommodate all staff members socially distancing at once. Moreover, this problem can frustrate staff and damage morale. Using Ronspot for desk management will provide a fair solution designed from the ground up to help companies manage their social distancing challenges in the workplace. Ronspot controls the social distancing desk spacing and the total number of people given access to the office each day.
For more information about Ronspot Desk Management Solutions, check out the video below!
We love to hear from our readers.