A remote working survey carried out in Ireland found that 95% of those surveyed wanted to work from home in some capacity after the pandemic. It was outlined that employees liked the "flexibility" and felt more "productive" working from home. Ahead of offices reopening organisations will have to have plans for flexible working in place. The majority of employees still wish to return to the office in some capacity. For these employees, just how long will they have to wait to return to the office? With COVID vaccine programs in place, the possibility of working onsite is looming. This blog looks at seven countries in total and aims to shed a light on when their offices will reopen.
Office Reopening around the World
Ireland
Employees returning to work in Ireland is said to be a top priority of the government in Ireland. Many workers have been working remotely since March 2020. As it stands, the office reopening date depends firmly on the number or percentage of the population that are vaccinated. Currently, Ireland have administered just under 2 million vaccines, accounting for 10.4% of the population (Reuters, 2021).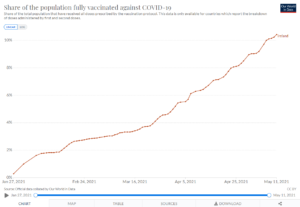 However, the government hope that under their plans, office reopening can commence from September 2021. There are several factors that influence this decision. Like the vaccination rate, the number of cases and notably, the possibility of the Indian COVID variant entering the country. So, a reopening date for September appears to be a target at the moment. A very positive note for Ireland was the reopening of all non-essential retail, which commenced on Monday last, the 17th of May.
If the reopening date were set for the 1st of September 2021, that would give companies approximately 14 weeks to prepare for office reopening.
United Kingdom
The United Kingdom (UK) have had a roadmap for reopening since February of this year, with the aim being to lift all limits on social contact by the 21st of June. JPMorgan Chase has told employees they want employees back to the office by this date. Now, with a month to go, the UK have managed to fully vaccinate over 31.3% of the population. Making them the fourth most vaccinated country on record, behind Israel, the USA and Chile. However, recent reports that the Indian variant of the virus has been found in the UK is casting some doubts over this roadmap.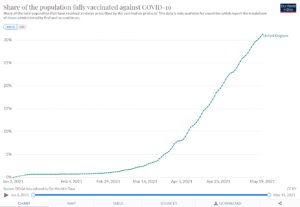 Prime Minister Boris Johnson said that "nothing conclusive" can be said on the reopening times being delayed, but that they will know more in the coming days. Fears that the new variant could be more transmissible is challenging the government. The UK have allowed people to meet indoors and reopened a lot of their economy, including retail and hospitality.
If office reopening in the UK begins on the 21st of June, that gives companies in the UK approximately 3 weeks to prepare for this.
Europe
As for Europe, the vaccine rollout has been quite slow across the continent. The UK leads the vaccinated rate, with Hungary, Serbia and Lithuania following. As for Spain, Germany, France and Italy, articles earlier this year said that workers would not be likely to return to the office before June. As the weeks go on, the prospect of these countries opening their offices by June becomes less and less likely.
Italy seems to be the closest to reopening offices, as their pubs, restaurants and even borders are opening to the public. Visitors with EU-approved COVID vaccines will be allowed to enter Italy without restrictions.
Spain has vaccinated 15.9% of their population currently, however, there has been no further developments on when the offices will reopen.
Germany has vaccinated 11.9% of the population, but the speed of the vaccination rollout has been criticised by the public. Supply issues meant the vaccine rollout was slower than expected. However, this has improved since early May. There is still no indication on when the offices will reopen in Germany.
France has vaccinated 13.9% of their population and has had hopes to reopen the offices to employees from the 9th of June. Although remote working will continue, the onsite working will be allowed in some capacity from early June.
USA
The USA has vaccinated 38.2% of their population currently. Many companies around the USA have chosen to reduce their office space, like JPMorgan Chase and Salesforce. However, there are a lot of companies looking to bring their staff back to the office sooner than first anticipated. Google have begun to accelerate plans to have their staff back to the office before the 1st of September. Similarly, Bloomberg CEO, Michael Bloomberg expects staff to be back in the office once their vaccinated.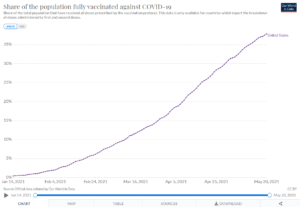 A study by the LaSalle Network of 350 CEOs in the US found that then majority of companies expect their staff to return to the office before September. On the other hand, a lot of the large tech companies extended their work-from-home policies earlier this year. Companies like Spotify, Amazon and Twitter have given their employees a lot of remote working options in the past 12 months.
With the aim to return to the office in September, that gives facilities teams across the USA 14 weeks to prepare and strategize for the office reopening.
Why Do Companies Want Employees to Return to the Office?
In May 2020, Twitter announced that their workers could work remotely forever. The announcement brought to light the future of work for employees worldwide. However, fast forward 12 months and the opinions of CEOs and multinational companies have shifted. Many companies are wanting to bring their employees back to work in the office in some form as soon as possible. A study from Best Practice Institute (BPI) found that 83% of CEOs want their staff back to the office in 2021. But why?
Trust
Trust is an important part of working relationships. Managers put their trust in their workers to get their work done from home and to be productive while at home. However, the lack of onsite physical interaction has resulted in a lack of trust between managers and employees. Remote working has led to negative assumptions about employees work ethic. In most cases, this distrust is baseless. The issue with the distrust, is the effect it has on productivity and innovation. Employers hope that bringing employees back to the office, even using a hybrid approach, that trust will redevelop.
Company Culture
Remote working has led to companies trying new ways to grow company culture. During the pandemic, the remote only approach led to companies meeting virtually for events and celebrations. The novelty of these events did ware as the months progressed. As well as that, companies onboarding new employees have found it difficult to fully immerse the new recruits in the culture virtually. Video chats and virtual events are okay, but face-to-face meetings and coffee breaks can build a much stronger company culture.
Career Progress for Young People
Young people starting new jobs today comes with its struggles. Beginning to work in a remote working environment is challenging. Young people don't have the benefit of knowing their managers or co-workers on a more personal level. Managers miss out on seeing how young people work in the office, how they deal with their co-workers and how they perform day-to-day. This makes it difficult for young people to connect to the company and their co-workers. If there is no connection, then there is less chance of them being able to impress their boss. Overall, this affects the opportunity for career progression.
Collaboration
The shift to remote work has meant how workers collaborate has changed. No longer was there the possibility of idea generation over a coffee in the canteen, or a quick catch up on the walk to the car after work. Video calls and text chat replaced this. In many cases, the replacement works just as well. For some employees, getting their point across in a message or video chat can be quite difficult. In person collaboration suits some teams better. Some workers enjoy being able to openly bounce ideas off their co-workers. Another reason why companies want their employees back, is for this idea generation. These ideas breed innovation.

How Can Employees Get Back to the Office?
Whilst CEOs want their employees to come back to the office in some form and most workers will do so in favour of a hybrid model. This approach could see employees returning for one day a week to start. This would ease the staff back into onsite working, while actively satisfying the staffs requests. There are many ways of making the hybrid work approach easier for employees on their return. Most notably is in the form of pre-booking office space. There are many ways of doing this, some companies may use an Excel document or some other software. The most efficient way to do this is a desk booking system.
Ronspot Desk Manager
For any upcoming office reopening Ronspot Desk Manager is a must have. The solution is the complete desk management system, allowing employees to book their office space from the mobile app. The solution was developed to help manage office space during the pandemic. This meant the solution needed to be simple to use and facilitate social distancing. But how does the solution work?
Ronspot Desk Manager can make bringing employees back to the office simple. For the company, setting up with Ronspot is simple. Once onboarded, the company's office will be integrated into the mobile app. From the app, employees can view the office map, choose the desk space they wish to book and reserve the space all in real-time. Employees can see the other desks that are booked and check availability for up to 90 days in advance.
For company administrators, social distancing rules can be set. Meaning no office remodelling or moving furniture. Simply choose the social distancing bubble of the desk, and once booked, all other desks within this bubble will become unbookable. Ronspot creates a fair desk allocation policy, by using credits. Employees are given a weekly or monthly credit allowance. Credits allow employees to make bookings. Finally, admins can view their occupancy levels and ensure that the office space is being utilised to its full capacity. If not, then maybe it is time to review then current real-estate portfolio. Ronspot can help in understanding how your office uses its office space.
Easy to Onboard
Ronspot is quick to onboard, it can take as little as two weeks to get Ronspot setup and have staff prepared for using the software. For more information, you can book a demo today and learn more about Ronspot in just 30 minutes. Our team is happy to see how Ronspot could help you. Our calendar is available below so you can book a time and date that suits you. If you don't see a time that suits you, feel free to contact us and we can arrange a call for you.
Book a Free Demo
Set up a 100% free demo session today to learn how the Ronspot App can transform the well being of your employees.
We will walk you through the app, show you how it works and help you craft configurations in a way that best benefits your organisation.