Get your free tickets for Working From Home Live here!
The team are delighted to announce we will be attending Working From Home Live at The Business Show 2022 this November!
We're proud to say we will be one of the 500 exhibitors at the event and here is some information on where you can find us:
📍 Location: The ExCel, London, United Kingdom
📆 Date: 16th & 17th of November 2022
🕙 Time: 10 a.m. – 5 p.m.
🗺️ Stand: W2534
We're going to the Working From Home Live Expo 2022!
The team are delighted to announce we will be attending Working From Home Live at The Business Show 2022 this November!
The Working From Home Live Expo is now a part of Europe's biggest business event and has been introduced to help businesses across Europe adapt to hybrid working. The event boasts over 500 exhibitors, all providing solutions to make working from home/hybrid working easy.
Throughtout the two days there will be a veriety of masterclasses and panel discussions for you to sit in on. These discussions and talks will provide some great insights from industry experts. Not to mention, you will have the opportunity to network with these experts along with over 30,000 other attendees. Moreover, there are designated networking areas for you to meet with other business professionals and converse.
We're proud to say we will be one of the 500 exhibitors at the event and here is some information on where you can find us:
📍 Location: The ExCel, London, United Kingdom
📆 Date: 16th & 17th of November 2022
🕙 Time: 10 a.m. – 5 p.m.
🗺️ Stand: W2534
(NEW) Desk Booking Solution Video
Our brand new desk booking system video is here. Showcasing how easy it is to setup an account, create your zones, uploading a map, and the rules you can set as an administrator.
We show you how to add interactive desks to your map so your employees can make bookings through the map.
The video walks through how easy it is for your employees to get setup on your account. Just download the Ronspot App, register for your account by email or through single sign-on, and start making bookings.
As an employee, Ronspot allows you to see who is booked in to the office on a given day. You can also filter desks to find the space that best suits you. Once you have found the right spot, simply tap it, confirm your booking, and your spot is secured instantly.
You can view all your bookings on the homepage, and cancel in just two taps if you want to release your space.
As you can see, the system is incredibly intuitive. It makes it easy for employees to book and release spaces. For admins, you can set rules for groups of employees, allowing you to manage multiple sites, teams, and zones. Overall, making desk booking a success.
If you're interested in learning more, book a demo call today with our team.
Ronspot 11 – New Mobile App Design
The team at Ronspot are delighted to release a major new update of the world's most flexible space management system. Managing your desks, parking spots, and meeting rooms in one App. This new release features a completely new user interface and colour scheme to make it even easier to use. Not only that, but the new release includes:
A new 'Home' page: for a quick and easy view of all the user's spaces
Updated and redesigned calendar view with new colour scheme
Add your own logo with our new co-branding options
The new menu at the bottom of the page makes it quicker and easier to find the feature you're looking for
QR code check-in without prior bookings – book instantly in the office
Single Sign On (SSO) directs the user to the appropriate service without having to select
Users can register directly on the App
Team leaders can manage bookings on behalf of team members directly on the App
App now available in English, French, Spanish, German, Dutch, Italian and Czech
+ many more new features
At Ronspot, we are passionate about solving employee parking and hot desk management issues in the workplace. If you have an employee parking lot for example, Ronspot makes sure your employees have a space by allocating parking spots fairly and transparently.
Furthermore, the Ronspot App allows your employees to view live and up-to-date availability for desks and parking and lets them manage their schedule effortlessly. Reduce employee frustrations and get the most out of your expensive real estate with our easy-to-use Hybrid Workplace App.
Thank you to our loyal customers in dozens of countries around the world and to our 30K+ users for using the software each day!
The new analytics page is now live across all Ronspot accounts.
Previously, our analytics were accessible through the sidemenu in the admin panel. To navigate to different reports, admins would have to choose from the side menu. The information about the report data would appear once the report was opened.
Now, the analytics page displays all reports in one place, as well as a breif description of the data in each report. The aim of this new look was to improve the UX and UI of the admin panel reports.
This new page is live in your Ronspot account, but in case you missed it, simply:
Navigate to the Analytics tab on the sidemenu
Click on analytics and see it for yourself
If you're interested in learning more about Ronspot for desking, parking, and/or meeting room booking, hit the 'Start Your Free Trial' button (right).
The new forecasting report is a great tool for companies managing their office space. It looks at previous and future bookings to help you better plan your spaces:
What is in the report?
The report shows 29 days in total: the past 14 days (in grey), the current day (in white) and the next 14 days (in blue). This allows the admin to compare the past and next 14 days and know what to expect in terms of demand and occupancy.
See the number of bookings made from the app, and which bookings are made from auto-assigned users.
See how much space is available over the next 14 days weeks.
Key features:
This report shows bookings by individual zone, multiple zones, or all zones.
Identifies upcoming busy days in this period.
Helps understand how bookings are being made.
If you're already a customer, just head to the analytics section in your Ronspot account and see it live. If you're interested in learning more about Ronspot, desk management and space management, hit the 'Start Your Free Trial' button (right).
This new feature is simple. Now employees can make bookings for the weekend. See how in this 20 second video.
Hybrid working is changing how we work. Not everyone is able to work the standard Monday to Friday, 9-5 role. Instead, with this new age of working, employees want to be given the freedom to work when they want, where they want. With this new feature, producitivity in the office is no longer confined to the weekdays. Employees can book on Saturday and Sunday.
To book:
Open the app, choose the day you'd like to book, and claim your spot. It's simple.
Encourage your employees to be work on their own schedule with this new feature.
Ronspot Hot Desk Booking Software
Ronspot Desk Booking Software is a complete desk booking management system for companies to manage their office. This software is designed to manage hot desks, fixed desks, office spaces, and collaboration rooms to faciltate the modern workplace.
Ronspot makes hybrid working easy. Ronspot is a cloud based system, where employees make their desk bookings through the mobile app (or web app). For admins, the system is managed through the intuitive admin panel.
Some key features of the Ronspot Desk Booking Software are:
🗺 Interactive Map for Bookings
📆 Real-time Booking Calendar
↔ Built-in Social Distancing
🟡 Ronspot Credit Bookings
Some of the benefits of this software are:
🏢 Savings on Real-Estate
✍ Less Administration Work
🤖 Automated Workplace Processes
😊 Happy Employees
Sync bookings with calendar
Syncing bookings allows employees to view their Ronspot bookings directly in their Outlook, Teams, Google or Windows calendar.
Features:
employees can switch on the option "Sync bookings with Calendar" from their settings. Note: this option is not yet available on the app and must be switched on from the web version.
employees will automatically receive an email notification after making a booking. The email contains an .ics file that will be added to their calendar (Outlook, Teams, Google or Windows).
the desk and parking events are designed not to block any time slots in the calendar (no conflict with other bookings).
a parking or a desk booking cancelled from the calendar will automatically get cancelled in Ronspot as well.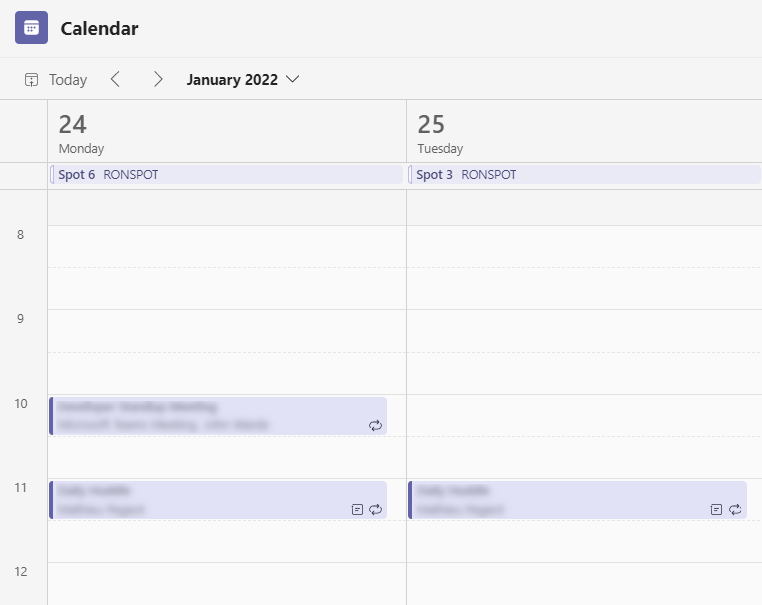 Android version 10.0.59 – iOS version 6.0.0
The tag filters allows staff to filter desks and parking spaces and desks selecting parameters / attributes to narrow down their research.
Features:
administrators can create a list of tags from the admin panel – the name of each tag being customisable
administrators can assign one or several tags to each desk and parking space
employees simply have to press on the filter icon (bottom right corner) to show the filter selection
filtered spots are shown on both the calendar and map
employees can combine filters (OR condition)
the filter selection is saved in the app and remain on after changing pages or closing the app
Android version 10.0.58 – iOS version 5.0.29
Desks and parking spaces that have been reserved but not checked in after a specific time can now be automatically released for other employees to use.
How it works:
If the check-in option is on, employees with a booking must tap on the check-in button in the app when they arrive to work.
If they don't, they will get a reminder notification (sent after a designated time, for example 9:30) asking them to check in within 30 minutes.
If the employee ignores the notification, his booking for the day will automatically be cancelled and other employees will be able to book his desk or parking space in the app.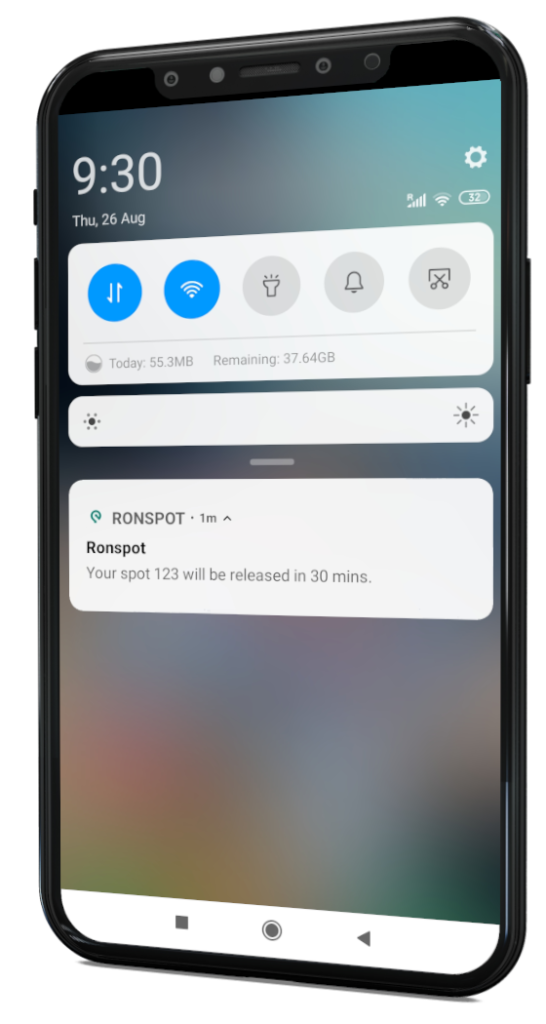 Android version 10.0.57 – iOS version 5.0.28
Administrators can now create teams of employees and appoint one or several leaders for each team.
Team leaders can:
view team members' bookings and credit balance
make bookings on behalf of team members
delete team members' bookings
Android version 10.0.58 – iOS version 5.0.29
The check-in/check-out system allows staff to confirm they have arrived or left the workplace with a tap of a button or by scanning a QR code onsite.
Features:
check-in with a tap of a button or by scanning a QR code onsite
only employees with a booking for the current day can check in
employees can check in and check out several times a day
a check-in reminder can be sent automatically to employees who haven't checked in yet
if no check-in within 60 minutes after receiving the reminder, the desk will be automatically released
QR codes are autogenerated and specific to each spot.