In the past, companies and offices have managed their conference rooms or meeting rooms manually. This being either by a physical document or using an excel sheet to manage each room. This method has worked well for small organisations. However, once you become a business with 50+ employees, the demand for a conference room booking system grows.
Choosing a conference room booking system can be difficult. There can be several deciding factors when choosing a system. Most notably is the functionality of the booking system. Whilst UX and UI are important, the functionality is key – i.e., automating meetings/conferences and simplifying the booking process.
In this article, we look at the top 3 advantages of using a conference room booking system.
Top 3 Advantages of Using a Conference Room Booking System
1. All your conference room bookings in one place
For employees, depending on their role, they may have a couple of meetings a day. That's about 10 meetings a week. This can pile up in the employees' calendar and can often be difficult to keep track of. Tools like Microsoft Teams have made this easier. However, this can become messy, especially with meetings in a calendar, booked alongside other calls or employee calendar blocks. Very quickly, the calendar can become full of different labels and time blocks.
With a conference room booking system there is no messy calendar. In fact, your meetings are listed in order of occurrence. Meaning your upcoming meetings will appear first in the list. The big advantage here is that you can see your meetings in one place. No searching through the calendar to check your availability, simply open the system and see your meetings.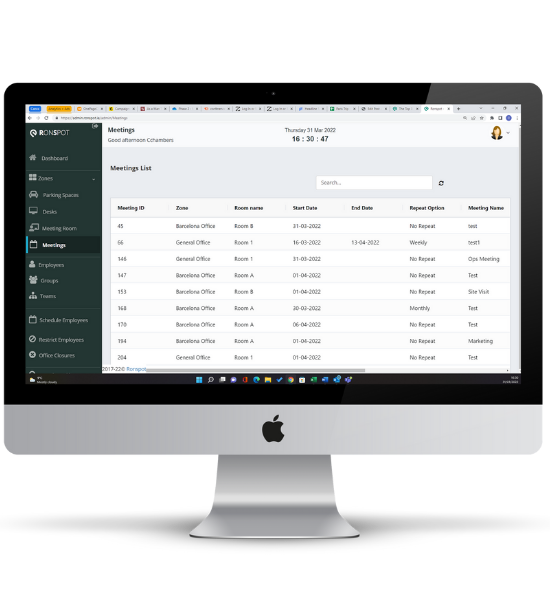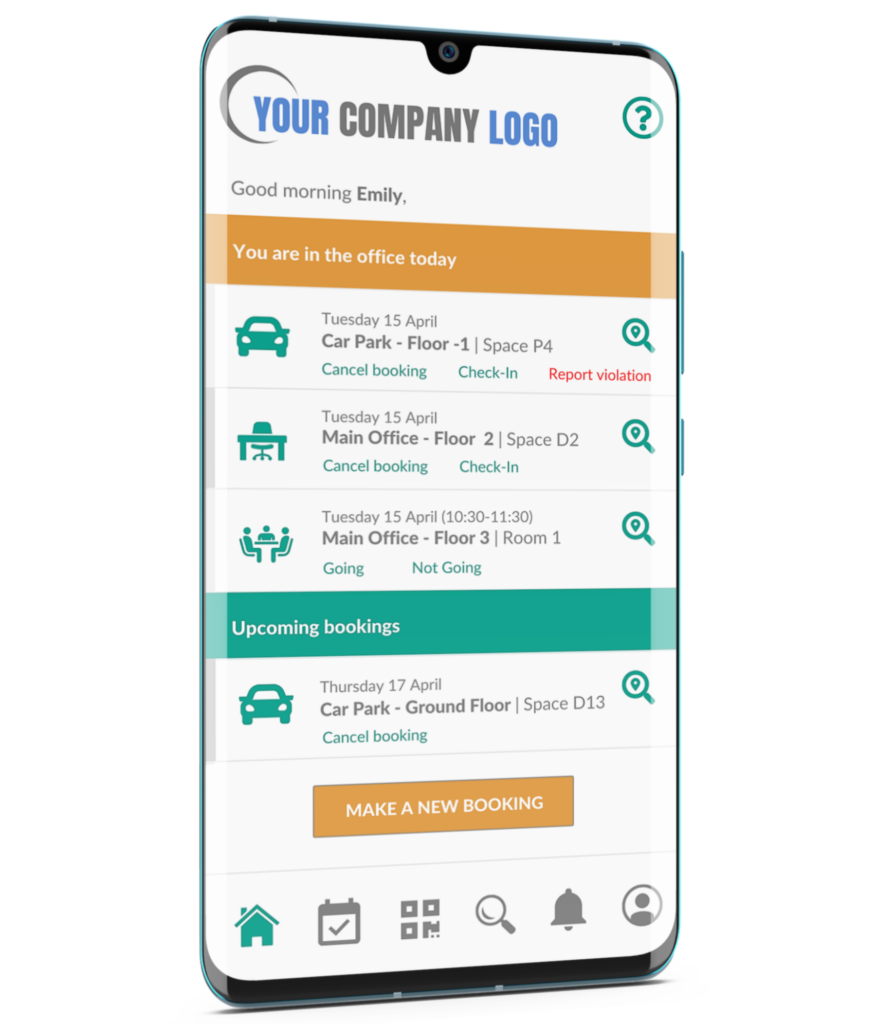 2. Book a conference room from your mobile
When booking a meeting, it can be a lot of hassle to go down to the conference room and check the board or go to find the excel sheet and check availability. In some cases, the meeting may need to happen quickly, so deciding on the conference room must be done fast.
With manual methods, this is difficult. Physically walking to a conference room and seeing it is full is quite frustrating, especially when your desk a floor down on the other side of the building.
By choosing a conference room booking system, you speed up the conference room booking process. So much so, that with the right booking system, you can book a conference room from an app on your mobile phone. Ronspot has both a desktop and a mobile app, so employees can seamlessly book meeting rooms in just a few clicks.
This means employees don't spend time walking around to try and find a conference room. Instead, they simply check the system, identify which rooms are available, and book the room immediately. Employees can invite their attendees and create the meeting for everyone.
3. Choose the room that suits your needs
When choosing a conference room for a meeting, you must find a room that suits your needs. For example, if the conference room is needed for a video conference call, then there will need to be projector/screen and the necessary AV connections. Similarly, if the room is required for a group collaboration meeting, a whiteboard may be required. Employees must therefore become acquainted with the conference rooms and know the amenities in each room.
However, for a large organisation, this is nearly impossible. An office building may have 15 different conference rooms. To ask every employee to memorise the amenities in each conference room is very impractical.
With a conference room booking system, there is no need for memorisation. Instead, employees simply login to their system, view the conference rooms and quickly see what amenities are in each room. Ronspot take this a step further. When an employee is looking for a conference room to match their needs, they can apply search filters.
For example, if an employee needs a conference room with an 'interactive whiteboard', they simply open the app, add the filter, and the conference rooms with an interactive whiteboard will be shown. Employees can then make their booking and invite their attendees from the system.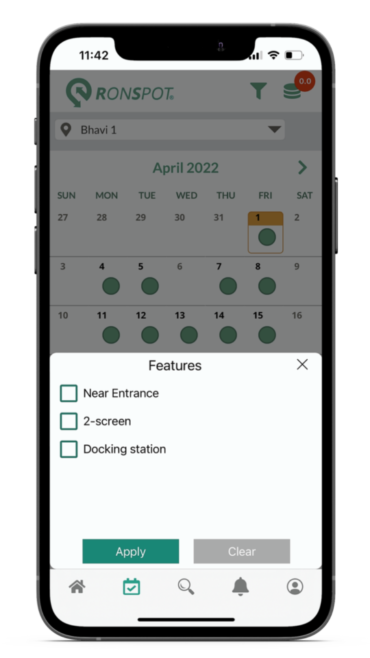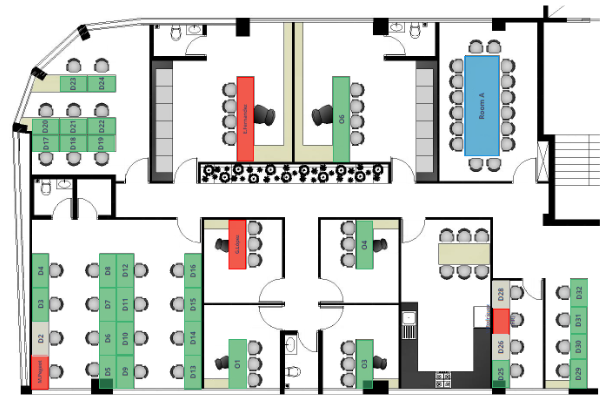 Interactive Map – Bonus Feature
Not all conference room booking systems have this function, but an interactive booking map is a very user-friendly feature. It makes the experience of booking your meeting room very simple. An interactive booking map is uploaded to the company account. This map resembles the office floor, and in that where the conference rooms are situated. This allows employees to visualise their office and book a room that may be closest to them.
Moreover, this interactive booking map can be used for more than conference room booking. With Ronspot, the booking map is used for all desking, meeting room, collaboration room, and conference room booking. This means companies can use the map to easily manage all the spaces in their office. Therefore, allowing employees to book their desk spaces and conference rooms in the one system daily.
Ronspot as a Conference Room Booking System
For Administrators
A conference room booking system is essential for the modern workplace. We've spoken about the advantages above. All these advantages are focused on the employee. However, there are some important benefits for the administrators who manage meeting room bookings. Administrators who manage a manual booking system will have to deal with extra work. Such as, governing the excel sheet, managing any disputes around bookings, and organising the room schedules.
With a system like Ronspot, managing bookings is simple. Once setup, Ronspot automates conference room booking by empowering employees. This means employees can view the conference rooms in real-time and book for the time they would like. All of this information is stored in the system, so there is no need for a paper trail or an excel sheet. The administrator can then view the meetings in each conference room and stay up to date on bookings that way. The benefit for the admin being they can reduce their admin work and save time in their day-to-day work life.
Increased Efficiency
For the company, empty meeting rooms is wasted space. If a conference room is going unused for days at a time, while there may still be free slots in other conference rooms, space is being mismanaged. Using Ronspot analytics, the company can identify what conference room is not being used. If the conference room is going unused for long periods of time, the company may make the decision to open the room as an office where the desks can be booked as hot desks.
Similarly, if they notice that a lot of their workspace is going unused across the entire office, the company may choose to find a new office that suits their requirements. Some companies could save thousands on rent each year by analysing their space usage.
The Modern Workplace
The modern workplace has adopted hybrid working as the new way of working. This involves allowing employees to work in office or work from home each day. The most common method for hybrid working is a '3-2 model'. This means employees work onsite for 3 days and work from home the other 2 – or visa-versa. Companies are empowering their employees. They are giving them the freedom to choose when and where they work. This freedom should translate into how they book their conference rooms. With a conference room booking system, employees are in control of their meetings and how they book them. Moreover, they can release unwanted conference rooms in real-time, making them free for others to use (which is great for efficiency).
Interested in learning more?
If you are interested in learning more about conference room booking systems, then book a demo with us today. On the demo, you will get see how Ronspot could be used by your company. You will see how easy it is to use the system, and how quickly you can make a conference room booking. And for now, the conference room system only costs €10 per room per month. This is only available until the end of June, after that, it will increase accordingly.
Book your Demo today!