Hoteling is becoming quite a popular term in recent months due to the pandemic and a major shift in office life. With flexible working on the rise so is office hoteling.
By Daire O'Brien 09-Feb-2021
The New Modern Workplace
Pre Covid-19, there had already been lots of signs of the modern workplace that we once knew changing. With some companies trialling a four-day work week and others allowing employees to work from home certain days of the week. Which is what we like to call the flexible working approach. Improved technology led to this change in the workplace. Technology allowed companies to introduce remote working. A rising trend since the pandemic hit, remote working has become the norm. Some organisations gave responsibility to facilities teams or the office manager to manage what employees could come into the office on a given day. Particularly for companies taking the flexible working approach. While other companies used technology such as an office hoteling system. The latter approach being the far superior one and less taxing on your employee trying to manage this new way of working.

What is Hoteling?
To clarify, hoteling is not visiting a variety of luxury inns each week! This is office hoteling, which allows an employee to reserve a workspace in the office on a particular day. Companies provide office desks on a need's bases. Instead of assigning individual desks to each employee. It allows flexible working within the workplace. Due to the pandemic most employees were forced to work from home. Post pandemic the vast majority of employees are still expecting to be able to work from home to some extent.
80% of employees said they would like a mix of working in the office and working from home i.e., flexible working. Incorporating an office hoteling system will help companies implement flexible working arrangements. Many companies are now looking to downsize their office footprint. An office hoteling system allows companies to utilise office space more efficiently. Employees no longer have to stress about whether they will be able to go to the office on a particular day. This is due to the office hoteling system allowing them book a desk days or weeks in advance. When they know they need to be in the office.
Hoteling vs Hot Desking
So, what is the difference between hoteling and hot desking? To put it in simple terms there is no difference. It all depends on what region of the world you are in. Hoteling is a very popular term used in the United States for a desk reservation system. You would seldom hear this term in the UK and Ireland. Most people would not even relate it to desk booking. Hot desking is another widely used term. It is a flexible working arrangement for employees. The term hot desking is a term mainly used in the UK, Ireland, and all-around Europe. The term hot desking is not as common in the United States.

Benefits of Hoteling
By using an office hoteling system it will allow companies to make the flexible working approach much simpler. A flexible workplace as we know it, is working between your home and office. Taking this approach means far less office space is needed.
Now that the entire workforce will not be in the one building at the same time, companies can now downsize their real estate commitments. Buildings no longer need the same amount of desks as they once had due to office hoteling and flexible working. Many companies are already looking into this approach. They see opportunities to lower their over all costs. Take Aviva for example. The insurance company have just announced the closure of some of their UK offices as they plan for a flexible working office space.
When companies reduce the size of their office this means the cost of rent also goes down. In order for hoteling to work and downsize office space, an office hoteling system will have to be incorporated. Yes this system will cost the organisation expenses. In time larger savings will be made due to reducing real estate commitments. Having less employees in the office will lead to less energy consumption.
Office hoteling increases collaboration within the workplace. Flexible working allows employees to sit where they want in the office. Whether that be close to their team or collaborating with other departments. By increasing collaboration it can generate new ideas and bring organisations closer together. It can help each department reach their goals.

What to Look For
At times it can be hard for companies to know what a good office hoteling system is. Here are a few key points you should look out for when opting for an office hoteling system:
Insights and Analytics: The hoteling system should provide your facilities team with insights and analytics on your office. This will help show them what is and isn't working. Facilities teams should be able to analyse what days are busy and what days are quiet within the office.
User Interface: The system should have an aesthetically pleasing user interface and be very easy for users to navigate.
Availability: It should be available on desktop and mobile. Users should be able to download it off the App Store, Google Play Store and also have the option of a Web App version.
Easy Administration: The process of getting everyone signed up should be an easy and straight forward process.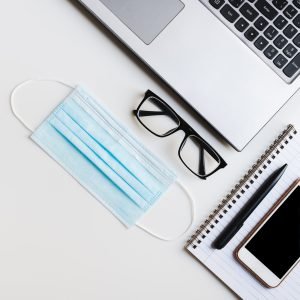 Avoiding Objections to Office Hoteling Systems
Like any change in the workplace, it will have its objections. It may be hard to get employees onboard. One thing that employees are going to be very conscious of when they return to the office is health and safety. Sharing desks may not sound like the right approach. This is due to being told not to mix and keep your distance over the last year. However, introducing a cleaning policy after desks have been used can avoid this objection. This is the approach many large organisations have included when installing an office hoteling system. A thorough cleaning of each desk would be completed by professional cleaners after a desk has been used.
Employees Don't Have Their Own Space
Another objection that employees might have is not having their own personalised space. This kind of objection may be from employees who are in the office 4-5 times a week due to the nature of their job. For these types of employees assigning them permanent desks may be the best option. For employees that are only coming into the office 1-2 times a week take the office hoteling system approach. This can be introduced by creating zones in your new office workspace. By incorporating zones it also means you can assign more desks to certain departments who are essential to the business.
Sometimes when incorporating office hoteling it restricts the access of employees to the office. When certain employees who are essential to the daily running of the business have no access to the office because there are no free desks, it can cause a problem. By implementing zones it will prevent this from ever happening.
Compromising Collaboration?
Office hoteling systems may cause distractions for employees. For example, a group or a certain department decide to meet in the office to brainstorm ideas for a new project or product. Other employees working in the same room may find this distracting. To avoid this, setting up meeting hubs for these kind of collaborative sessions can work very well. This can keep all employees satisfied and avoid any objections to the new office hoteling system. The beauty of a hoteling system like Ronspot it can also allow for booking meeting rooms within the same app as the desk booking.
Whether you call it office hoteling or hot desking, in order for flexible working to be a success you need a system in place. A software like Ronspot has all your company needs covered when it comes to an office hoteling system. Ronspot's software ticks all the boxes for key features to look out for when choosing an office hoteling system. We even have a clever credit booking system. Learn more on our credit booking system here!