The way we work has changed for good. The move to hybrid working is something we have spoken about at length across our blog. We've often shared tips and advice on how to prepare for the return to work. Principally, recommending our Ronspot Desk and Parking Managers to manage your facilities. Well now we are going one step further. Instead of recommending Ronspot, we are giving it to you, absolutely free. No credit-card, no contract, just create an account and start managing your facilities today. Have a look at what you can do with our Ronspot Community plan below.

Ronspot Community is free forever, but why? It's simple, the workplace is changing and so is the way we work. The notion of working 9-5 in an office, Monday to Friday is a thing of the past. Flexible working is the future. Take the recent return to work survey carried out in Ireland. 95% of respondents want to work from home in some capacity after COVID-19. For many companies, flexible or hybrid working is not something they are familiar with. For some companies, the switch to this form of working can be quite difficult to manage. That is where Ronspot comes in.
Ronspot Community is the perfect solution for those companies who are moving to flexible working for the first time. This plan allows companies to manage their desks and parking seamlessly from the Ronspot system. Companies can manage the facilities, permissions, and admin panel. Employees can then book their spaces from the Ronspot mobile, or web app. Simply check availability, tap your spot and book instantly. Ronspot is a real-time service, making it much easier for employees to book when they want.
Ronspot Community Features
This plan comes with a list of features that will make managing your office easy. A free desk booking system and a free parking manager system has its perks. Once you create an account, you'll be able to do the following:
Add unlimited users
Create and book unlimited desk spaces
Create and book unlimited parking spaces
Book up to 3 days in advance
Create and access up to 5 zones
Access training videos and a knowledge base
Book spaces from the mobile app
Book spaces from the web app
Guest booking available
Complete GDPR compliance
This whole host of features are available to you and your team for €0 /month. That's right, completely free. Unlimited users, unlimited spaces and booking up to three days in advance for employees. Not to mention training videos and a knowledge base to give you all the information you need to get your account up and running. You can create five zones, giving you the option to manage multiple offices or parking lots on a single account.
As well as these features, Ronspot comes with the benefits of real-time booking availability for employees. For the company, Ronspot's ISO27001 accreditation should bring peace of mind to the security of the platform. The platform is hosted on Amazon Web Servers (AWS), making it ready for high volumes of traffic at any time.
What Do Our Customers Say?
Earlier this year we reached out to some of our customers about Ronspot to see how it helped them. The response we got was excellent, from both the admins and the employees. Employees loved the mobile app and how easy it was to book. The Department of Health found a 75% reduction in their team's workload on parking management. Whilst SSE Airtricity had cost savings of €25,000 per year on parking spaces! The biggest trend was the increase in facilities occupancy. Ronspot is able to maximise the occupancy of the office or car park.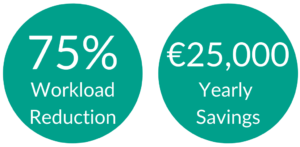 Have a look at some of the other case studies here and see what our customers say. Now, imagine being given this solution for free. Setting up your account is a no brainer.
Getting Started
Now that we have told you everything you need to know to get started, setting up your account is easy. Just follow these 5 steps and your will be ready to manage your office and parking.
Step 1: Start by entering your company name.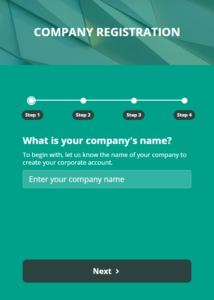 Then click next.
Step 2: Enter your company's location and time zone.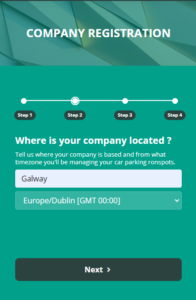 Then click next.
Step 3: Add the administrator's name.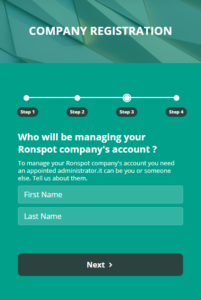 Then click next.
Step 4: Finally, choose your username, add your email, and create a password.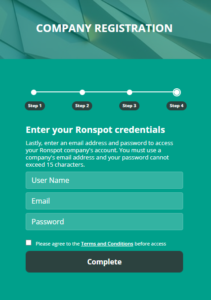 Make sure to click the box and agree to the Terms and Conditions and click complete.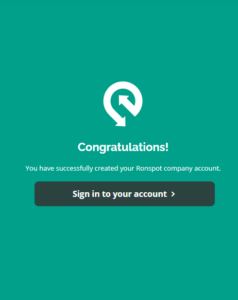 Once you have completed the registration you will receive a confirmation email. Now it is time to start monitoring your employee parking or hot desking!
Now it's time to sign-in to your new account. Here you can start setting up your zones, desk, and parking spaces. Your admin panel will look like this.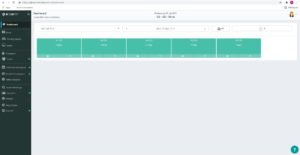 Here you will be able to control the desk and parking booking. You will be able to create spots and up to 5 zones. You can also see which employees will be booked in each day in the dashboard (seen above).
Employee Onboarding
Once you've got the spots and zones setup, it is important to onboard your employees. This process is very simple. Employees will have to register themselves. Employees can do this by going to the Ronspot website, then clicking Employees > Register on the homepage menu. Or, you can share this link with them to register.
Once your employees have registered, they should then download the Ronspot App. This will allow them to book from the palm of their hands. Employees should go to the App Store for iOS users, or the Play Store for Android users and search Ronspot. Once selected, employees should download the Ronspot App and begin to login. Once logged in on the mobile, employees will be able to book in real-time.
For employees who prefer to use the web app to control their bookings, this is simple too. Just go to the Ronspot website, click Employees > Login on the menu and enter your details. Employees can make their bookings on their desktop freely too.
Create your Account Now
The Ronspot Community plan is the perfect start to your hybrid working journey. The system allows your employees to make bookings in real-time. It can also be used to measure who is in the office on a given day. Not to mention the freedom of having unlimited users and spaces to book from.
The Ronspot Community Plan allows employees to book up to 3 days in advance. For some businesses, this may be too short. However, our premium and enterprise plans are available for those organisations who require more notice. Check out our pricing page for more information on these.
For more information on the Ronspot Community plan, feel free to reach out to us by email or our Live Chat. We're happy to help!
For now, it's time to click the button below to begin – happy booking!