On the 19th of July 2021, Boris Johnson announced the lifting of restrictions for the UK. Today, that means no social distancing, except for places like hospitals and passport control. The advice for employees is to make a gradual return to the office. The majority of organisations have begun to bring their staff back to the office. Many of which have maintained restrictions in some form in the office. These restrictions include social distancing in some cases. Which is still regarded as important by UK office workers.
UK Office Workers Want Social Distancing
In a survey conducted by Ronspot with 250 office workers in the UK, we found that workers would be most upset if there was no social distancing in the office. We asked "what would make UK workers feel upset if implemented or required when returning to the office? (tick all that apply)". The top three responses were:
1. No Social Distancing (40%)
2. Wearing a Mask in the Office (33%)
3. Vaccine Requirement (32%)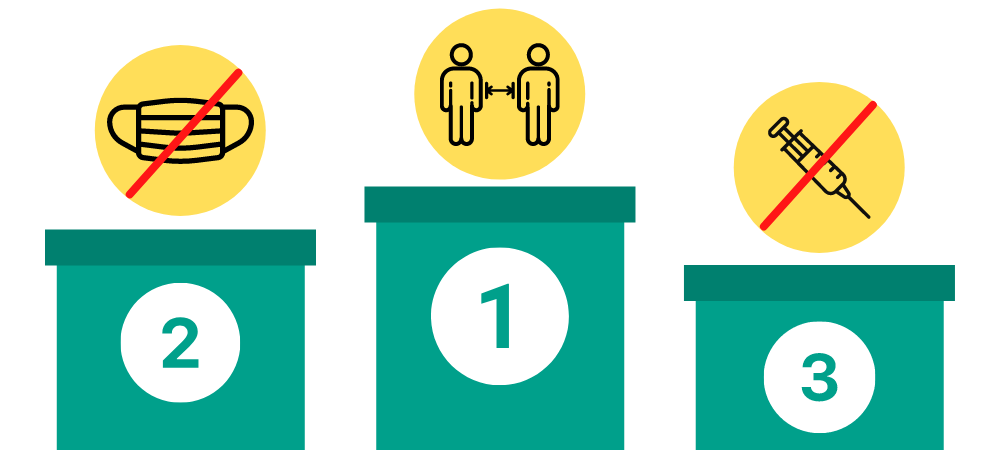 Mask Requirement (33%)
Uncapped Office Capacity (30%)
Clean Desk Policy (17%)
No Social Distancing (40%)
Vaccine Requirement (32%)
None (19%)
All the results for this question can be viewed in the graph here.
These insights can help employers to understand employee frustrations with returning to the office. For example, the responses show that some UK office workers don't want to wear a mask at work. Conversely, there is still a large part of the workforce who would not be upset to wear a mask at work.
Interestingly, 40% of respondents said they would like social distancing to continue in the office. For many people, the fear of Covid-19 is still very real. Employers must be aware of this when encouraging workers back to the office.
Evidently, remote working is appreciated by office workers in the UK. Along with this data, 9.5% said that it was unfavourable, and 16% had no preference. Remote working is very important to some workers. Take our recent article for example, we found that 44% of UK office workers fear losing the freedom of working from home. Office workers can have balance between remote working and working onsite. It is up to employers to provide them with the opportunity to find this balance.
Respondents said that 74% of their organisations have adopted hybrid working in some form. This is refreshing for the majority of UK office workers. Hybrid working (aka, flexible/blended working) has many benefits for employees and employers. For employees, this may be saving time and money on commuting. For employers, this may be saving on real-estate spending. So, this is good news for both parties.
UK office workers showed interest in a desk booking system allowing their staff to book a socially distanced desk prior to going to the office. This is just one of the many features of the Ronspot desk booking system. If employees want social distancing, a software solution that automates this is ideal for organisations.
Social Distancing with Ronspot
Ronspot has a range of clever features that help manage flexible working. There are also important features like social distancing to ensure employees are kept safe at work. But how exactly does the social distancing work with Ronspot?
It's really quite simple. First, administrators will set up their office map and desk spaces. Then they can begin to set social distancing protocols.
In the Zone Layout, administrators will see a social distancing icon on the desk spot. Now the admin can select other desks that will be made unbookable, when the initial desk is booked.
For example, if an admin selects desk 1, and chooses to socially distance desks 2 and 3, these desks will be unbookable when desk 1 is booked.
These protocols can be set on as many desks as necessary.
It's important to mention how the social distancing protocols mean organisations do not need to rearrange furniture in the office. Instead, Ronspot will ensure employees are not seated beside each other once protocols are set.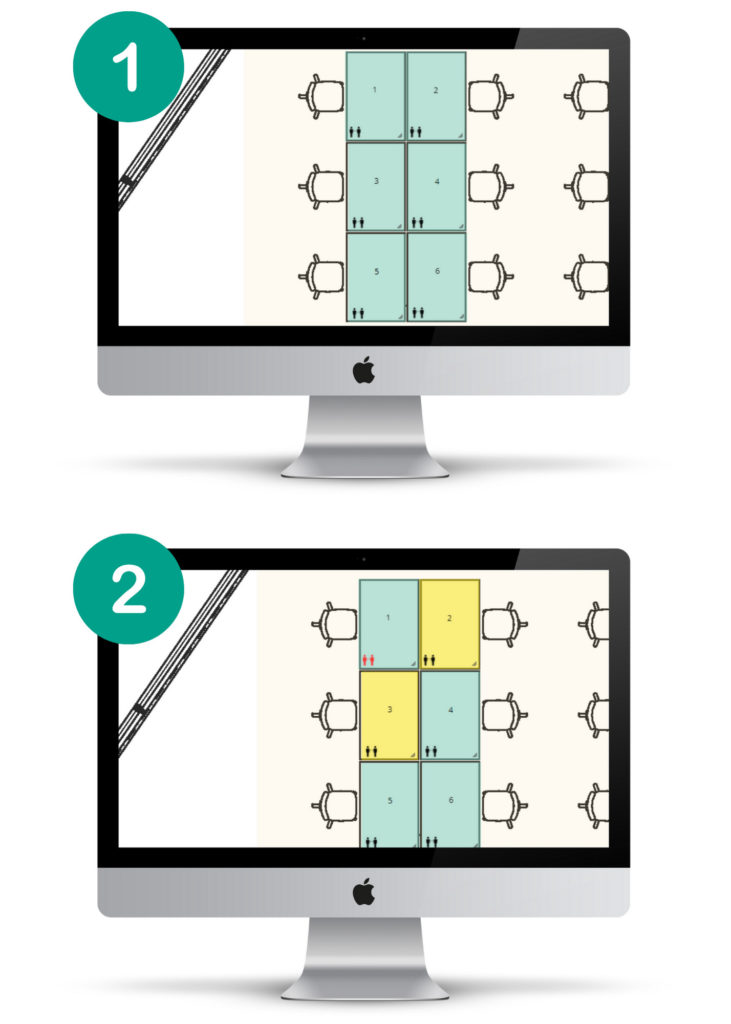 Complete Office Safety
The social distancing protocols are used by offices across Europe to ensure staff are kept safe onsite. Employee safety is important to us too. That is why we have reports in our analytics to ensure contact tracing is managed in the app. The report allows you to manage who booked which spot on a given day. Similarly, this report can be generated as a cleaning report – making sure that all desks are cleaned at the end of each work day.
Another important safety features is the booking safety message. Before booking a spot, Ronspot can send a pre-booking safety message to ensure that your employees are feeling healthy and showing no symptoms of Covid-19 before arriving to work. This message ensures that Covid-19 safety protocols are followed.
Ronspot has a daily occupancy limit feature, which ensures that only a set % of employees can enter the office each day. This is based on the organisations needs and procedures in terms of office safety and occupancy levels by the organisation.
Ronspot has several other features that are designed to ensure the office is occupied to the most of its capabilities each day. These features include check-in/check-out, auto-release spaces, and email/mobile reminders. The aim of Ronspot is to maximise occupancy for employers and keep staff safe onsite.
Book a Demo
If you are interested in finding out more about Ronspot, you can book a demo below. Speak to a member of our team and see how Ronspot could help you and your team.
Or if you want to try Ronspot for yourself, create your own free account today. Just click the button below, and register your organisation. Your first month you have access to the Enterprise pricing plan. This plan is unlimited.