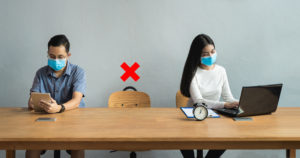 COVID-19 has had a major impact on the way we live our lives, causing us to rethink how we socialise. What started out as a temporary issue is now expected to have permanent effects on a global scale. Therefore, we are required to make some changes to our lifestyle that include social distancing, wearing a mask in public, and washing our hands more often. We still have to pay the bills, so we must get back to work. This means facility managers need to develop post COVID back to work plans.
Post COVID work environment
Businesses have an important role in preventing the spread of COVID-19 in the workplace. Office managers need to respond by putting together task forces for developing plans that will reduce the disease level of transmission in the workplace. This may mean revising the business's response plan as needed. Many governments are playing a balancing act between opening up for business and managing the current levels of healthcare capacity and transmission of the virus.
Therefore, formulate a plan based on your readiness to protect the health and safety of your customers and employees and the level of virus transmission. All employers and businesses are encouraged to plan ahead and cooperate and coordinate with local and national health officials concerning accurate and timely information that will inform the appropriate measures to take. In regard to community strategies, local conditions will be used by public health officials to make informed decisions.
Resuming Normal Business Post Covid
If your business was interrupted because of COVID-19, you are not alone. Almost all businesses, that are not considered mandatory operations, were shut down during the pandemic at some point. Resuming phased activities or normal business presents a challenge. But can also be used as an opportunity for a much-needed business plan upgrade by the back to work taskforce. Consider preparedness, response, and control plans when creating your plan to reopen and implement the following:
Include measures that will reduce or eliminate exposures between employees
Identify job tasks and areas that potentially expose employees and customers to risks
Keep your plans specific to the workplace
Maintain a healthy workplace environment
Try to maintain a safe distance between employees and customers of at least 6 feet
Set up hand sanitizer stations at the entrance and exits of your place of business for customers and employees to keep their hands clean at all times
Employ a cleaning crew that will clean up everything after it is touched and keep everything clean around the store or office
Ensure that everyone wears a mask
Make plans of what you will do if an employee seems sick
Effective Communication
Talk with your employees about the new planned changes and ask for their input and ideas in maintaining a safe, risk-free workplace. Effectively communicate your ideas. Not only with your employees but also with unions to get more ideas on keeping your workplace COVID free. Let your employees know the importance of staying home if they are sick to prevent the spread of COVID-19. Some employees may think their job would be jeopardised if they stay home. Keep everyone informed.
Ronspot offers a simple App solution we call Flexwork . It can take a lot of the manual oversight mentioned above and condense it into the App.
By Michael Furey, CEO. 23-Dec-2020