On the 20th of September employees across Ireland will be allowed to return to the office gradually. The Irish Department of Enterprise,  Trade and Employment are encouraging employers to have consultations with their employees on the possibilities of developing and implementing a 'blended working' environment. In a recent Tweet (see below), the department outlined some guidance for remote working.
A Global Trend
This phenomenon is not only in Ireland,  but is being embraced on a global scale.  In essence,  this 'blended' or 'hybrid' or 'flexible' working environment  essentially entails a new corporate landscape where the benefits of remote working are utilised in tandem with the interests of the office environment.
Facebook, Fujitsu, Nationwide, Otis, Siemens, Twitter, and other major companies have announced that large portions of their workforces may / must work remotely from now on. It saves money and may increase productivity, managers say.   A recent survey by Korn Ferry found that 64% of workers feel that they're more productive at home,  whilst many employees have indicated that a hybrid model of working at home and in the office for a portion of the week,  is their preference.
It would appear that in order to make this blended / flexible approach appear most beneficial to their staff,  managers need to think through how they might specifically tailor solutions for their teams.
How do Managers Manage these Blended Working Arrangements?
Many managers already have some experience of managing hybrid work arrangements. Even prior to the pandemic, this flexible set up was proving more popular for teams, allowing the expansion of the available hiring pool,  giving more flexibility to the workforce,   and generating better work-life balance for employees.
Gradual return to the workplace commences from 🗓️20 September.

We encourage businesses to have a conversation on #BlendedWorking with their employees.

See here for more information on Remote and Blended Working 👇 #MakingRemoteWork

— Department of Enterprise, Trade and Employment (@DeptEnterprise) September 7, 2021
However,  the Covid pandemic has created additional challenges when it comes to streamlining processes and ensuring that your team is able to work together effectively.
The anxieties of staff returning to the office can't be under estimated.  Whilst many staff are looking forward to the return,  many also have worries about being constrained in the confines of a crowded office environment.
Because the corporate environment has endured a sea change as a result of the Covid 19 restrictions,  the 'normal' office will also have to change it's features to enable the most safe and productive environment.
This is where a phased return to work can work well for businesses. If staff are now afforded a more blended environment,  and come into the office a few days a week, the likelihood is that they will expect managers to provide a more flexible,  and safe,  work environment.
A Safe Environment Can Be Low Cost
Management can provide a safer environment through the use of simple low cost strategies:
The implementation of new Health and Safety protocols
Use of new low cost technologies which allow for the advanced reservation of desk space,  to enable staff be confident that they will not be in an overly crowded office environment
The adequate provision of all personal protective equipment as appropriate
Ongoing review of all protocols, with the agile adaptation of same when warranted
Whether you've already transitioned to a team that combines both office and remote workers, or you're preparing for that transition, there are strategies and supports you can utilise to make that change as painless as possible. Making a phased return to work that bit easier.
Connection for staff and management is key 
Managing a blended workforce is different from managing one that's 100% in-office. Beyond finding a way to give your at-home workers what they need (minus the typical resources available in the office), it's also about keeping them connected with their other office colleagues and making sure their work is cohesive.
Know what your company objectives are: 
The core objectives need to be enshrined in the minds of all staff . Everyone needs to understand what is expected of them, regardless of their location
Support collaboration
Initially make sure you can determine what work is best suited to an office environment, and what work is ideal for a remote one.  Distribute these workloads as appropriate,  in a fair and equitable way.  Then implement procedures and processes where staff can contact each other when any issues (either in the office or remotely) arise.
Communication 
The characteristics necessary for an excellent leader all apply here: empathy, setting clear expectations, and the skills of regular and effective communication. Listen to what your staff's needs and anxieties may be,  and wherever practicable create a solid foundation of trust in the new regime,  outlining the protocols and new technologies implemented to reassure staff health,  safety and general well being.  It is essential to review how this transition is progressing,  and communicate to staff any necessary changes on a regular basis
Performance management remains important  
Because for many companies this is a new system,  it's important to define where that new journey should be leading to. Again, that means defining goals and how,  in your organisation,  you measure success.  A sense of the engagement from your entire team is essential, and ongoing oversight and review can make sure everyone is working effectively together.
Although this new blended workforce may pose challenges,  it can also be rewarding for both the individual employee and the organisation.  Consultation and communication with employees about how seriously the employer takes it's duty of care to staff  i.e. by ensuring health and safety protocols are adhered to,  technological solutions are available e.g. 'hot desking' procedures where desk space can be booked in advance,  managing boundaries and expectations,  and adapting a clear communication style,   will all mitigate any problems that may arise in this new hybrid work environment.
It is important to remember that,  with some thought and preparation,   a distributed workforce can create better conditions and outcomes for your team resulting in enhanced performance overall.
Ronspot for your Phased Return to Work
A phased return to work can be made simple with Ronspot. Many companies are choosing to bring their employees back one or two days a week to start. This is the notion of a phased return to work.
For some companies, they have more employees than desk spaces or parking spaces. This can be very tough to manage for some facilities teams and office managers. Ronspot can help with this problem.
How Ronspot Can Help
Ronspot can help bring employees back on a phased basis. With the clever mobile app, employees can book a desk or parking space in real time. Once booked, employees can then work in the office on that day.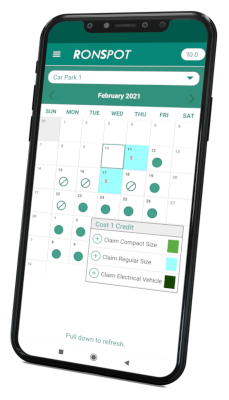 For a fairer allocation of spaces and to ensure workers are on site just one day a week, employees can be given credits to make bookings. These credits are used by employees to book spaces and can be allocated on a weekly basis. These credits can be altered at any time. For example, they can be increased to 2 credits per week, when employees are allowed to work onsite two days a week.
Ronspot has a number of other important features for a phased return to work, like:
Booking Check-in/Check-out (QR Code Option)
Parking & Office Spaces Booking in one app
Ronspot Analytics
Interactive Booking Map
Social Distancing Protocols
For a deeper look at the Ronspot system, click here to see complete list of features and pricing.
Keep your staff safe during their phased return to work with Ronspot.