Step 1 – On the admin panel,  click on Advanced Settings -> Admin Users in the sidebar menu
Step 2 – To add a new admin user, simply click on the yellow icon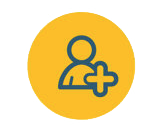 in the top right corner
Step 3 – Fill out the different fields:
Username:

Should be at least 4 characters long
Can be used interchangeably with the email address to login

Email address
Permission level

Full: Access to all tabs in the sidebar menu
Basic: Access to Dashboard and Analytics tabs only

Password

i.e. new employee registration, parking violation, unused bookings, etc.
Step 5 – Click on > Add and an email will be instantly sent to the new admin user, including the login details.