From the app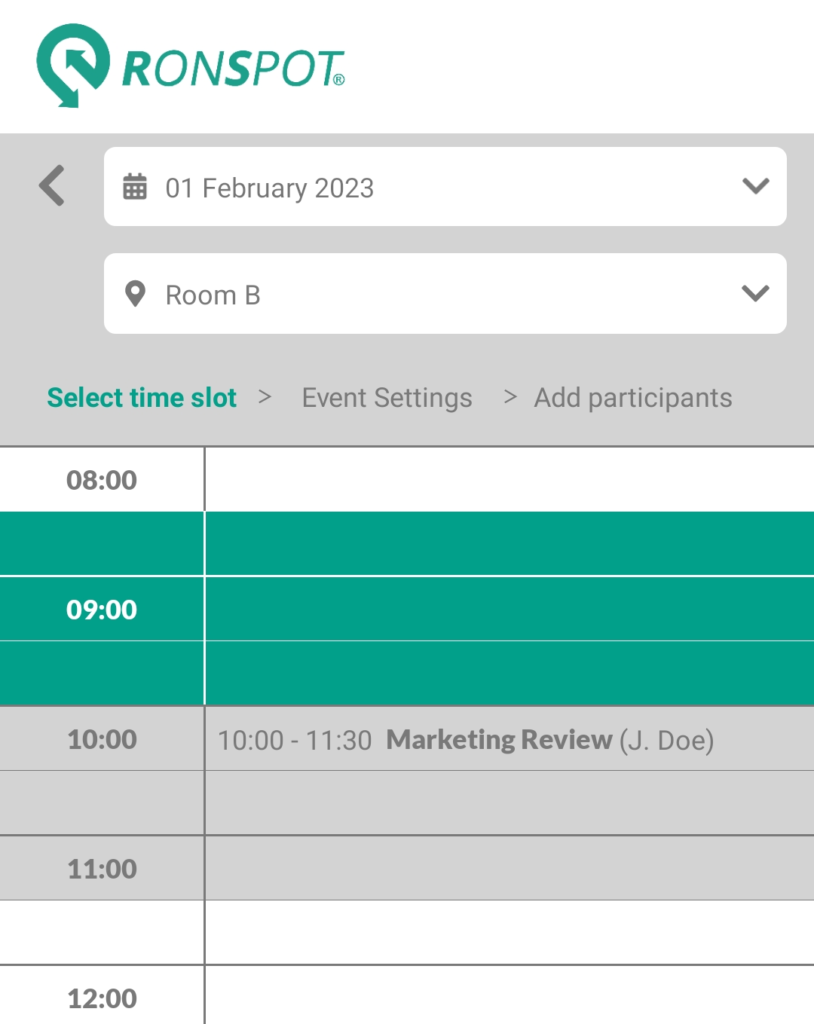 Step 1 – On the Ronspot mobile app, press on the second icon in the bottom navigation bar to access the booking calendar
Step 2 – Tap on any day, this will open a new pop-up window
Step 3 – Tap on Schedule meeting*
*If the option doesn't show, switch to a different zone with at least one meeting room
Step 4 – On the next screen Select Time Slot, you will be presented with a time grid for the first meeting room.  Use the drop-down at the top of the page to view the availability of other meeting rooms. Availability is shown as follows:
Available timeslots

Unavailable timeslots

Your selected timeslot
Step 5 – Tap on a white cell, hold down and drag down to select your timeslot (see image 1):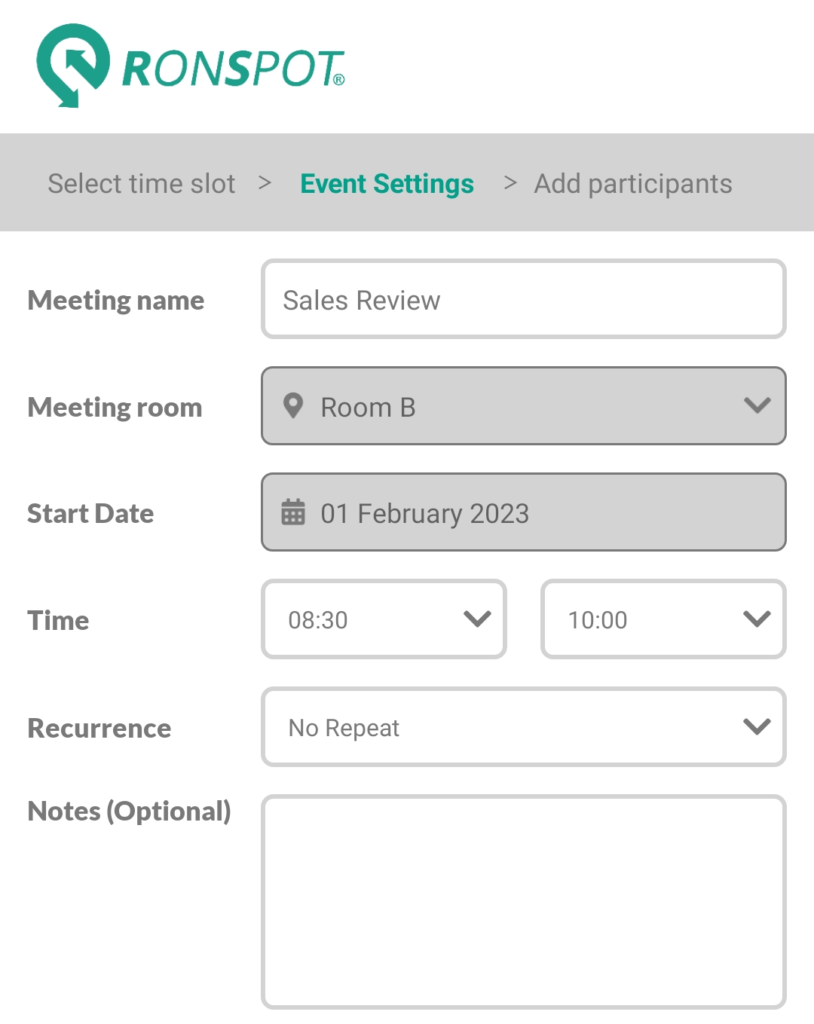 Step 6 – Click on Next
Step 7 – On the next screen Event Settings, configure the following fields:
Meeting Name — Give a name to your meeting
Time — Review the selected start and end time
Recurrence — You have the choice between:

No repeat
Daily repeat
Weekly repeat
Monthly repeat

Notes (optional)
Step 8 – Click on Next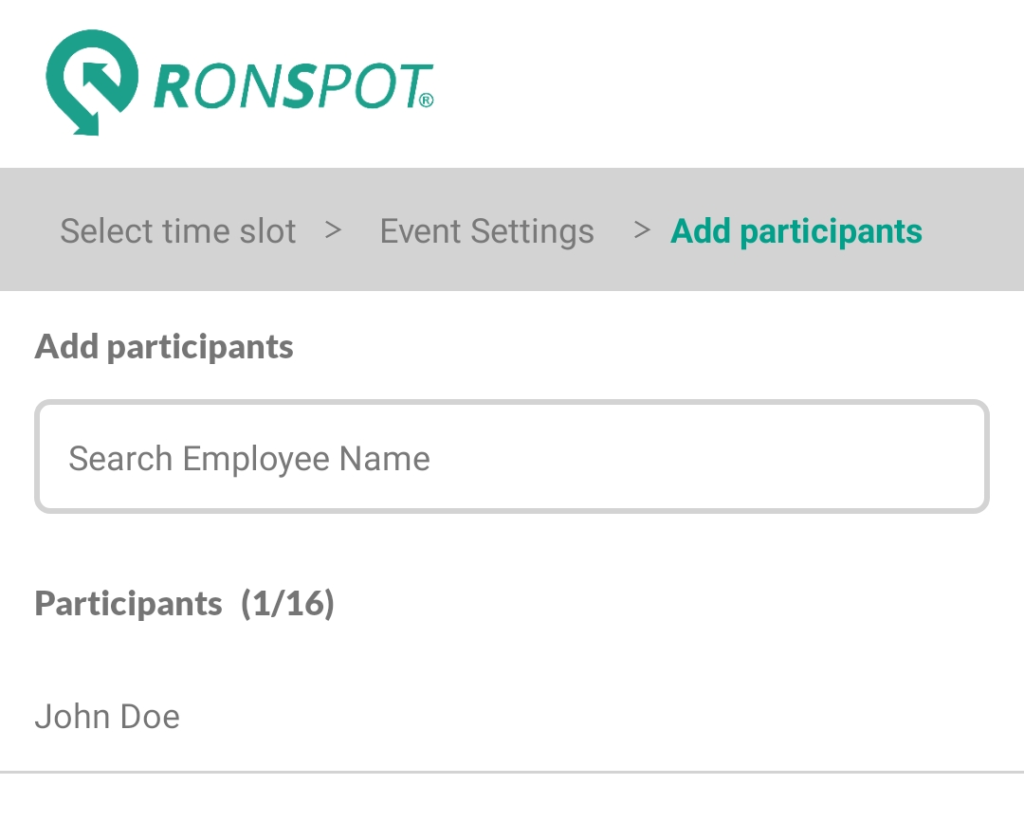 Step 9 – On the next screen Add Participants, click on Search Employee Name
Step 10 – Type the first letter of a name to search for a colleague and add it to the participant list
Step 11 – Repeat the previous step to invite other colleagues
Step 12 – Click on Schedule
From the web portal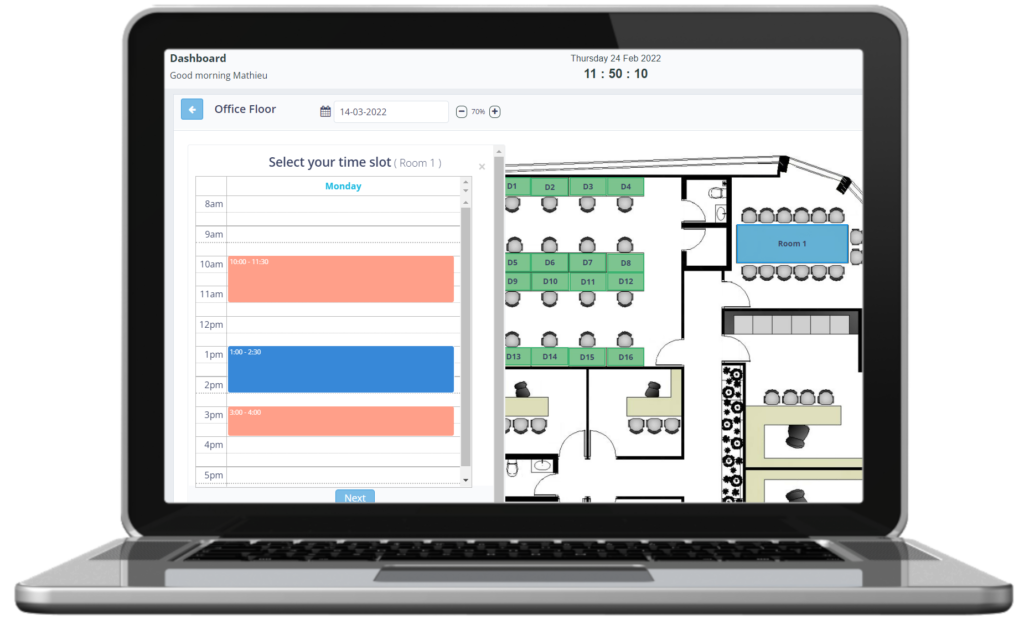 Step 1 – On the web portal, select a zone with a meeting room (use the Zone drop-down in the top right corner)
Step 2 – Click on an available day

in the calendar to access the map
Step 3 – Click the meeting room you wish to book. This will open a pop-up calendar, showing you when that meeting room is free to book throughout the day (unavailable timeslots will be shown in red).
Step 4 – On the next screen, choose the time you wish to book the meeting room for by clicking the time slot. To extend the duration of the meeting, click and drag the mouse down for the duration you wish to meet. Then click Next.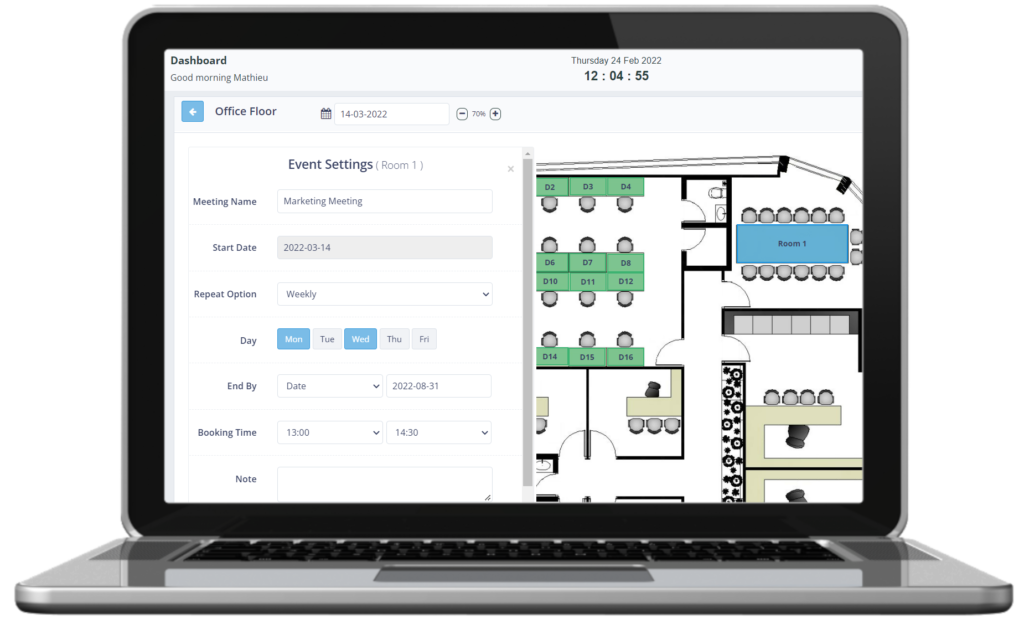 Step 5 – Next you will update the meeting details
Meeting name
Repeat option: You can choose how often you wish to repeat the meeting here. You may choose to do daily, weekly, monthly, or as often as you wish.
End date: You can also choose an end date for this recurring meeting (this is good for project meetings that will eventually end).
Booking time: You also have the option to amend the length of the booking if you wish.
Notes
To continue, click Next.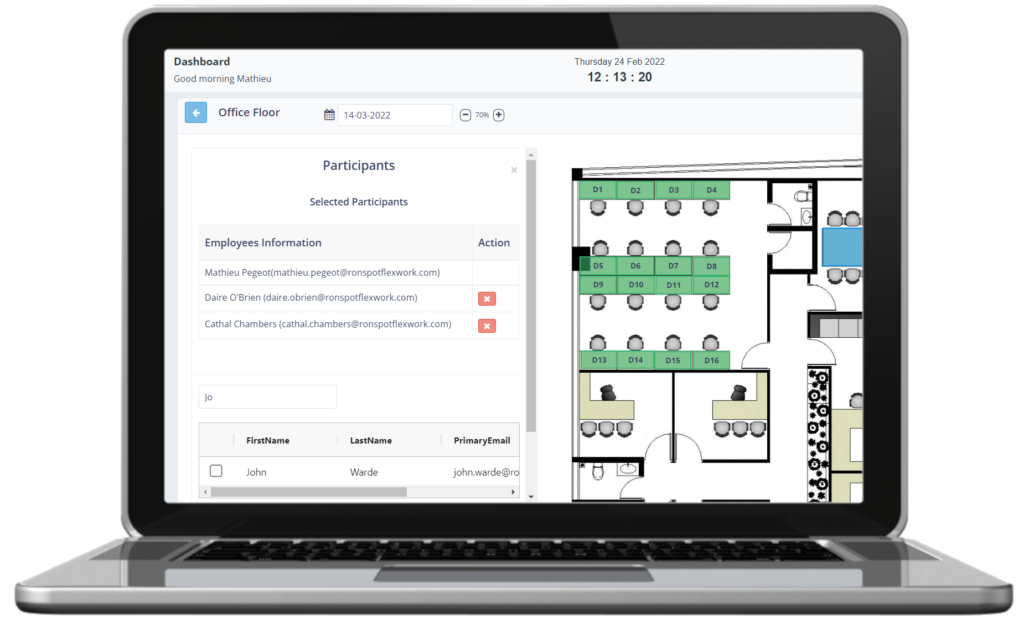 Step 6 – Add meeting participants
Type the name of your fellow employees in the search box
Check the box    beside their name to add them to this meeting. To remove a participant, simply click the  button  in the participant list.
Once you've added all your participants, click
.