Assumptions
You know the full email address(es) associated the meeting room(s) in Exchange Server.
The shared resource (meeting room) has already been set up in Microsoft Exchange, this article does not contain the steps on how to set up a shared resource in Microsoft Exchange.
The changes in Microsoft Exchange are completed by an experienced Exchange admin.
You understand there can be a delay between Exchange and Ronspot in sending and receiving calendar invites from each other and that double bookings are possible for this reason (multiple employees attempting to book the same meeting room from Ronspot & Outlook around the same time).
We currently only support single domain configuration (multiple domains cannot be used in the configuration below.
Steps in Ronspot
Step 1 – On the admin panel, click on Meeting Room in the sidebar menu
Step 2 – Locate the room you want to configure and click the edit icon under the "Actions" column.
Step 3 – Enter the full email address of the shared resource exactly in the field "
Step 4 – Click Update
Step 5 – Repeat from step 3 for other rooms.
Steps in Microsoft Exchange
These steps set up a rule in Exchange so that when any employee sends a meeting request (from within Outlook) and the Location field has a reference to a physical meeting room (shared resource in Exchange), Exchange will also send that meeting request to
bookings@ronspot.ie
. The steps are for a single room, to add more, edit the same rule.
Step 1 – Log into the Exchange admin center in your organisation. If using Office 365 then browse to https://admin.exchange.microsoft.com/#/
Step 2 – Click Mail flow in the left nav.
Step 3 – Click Rules in the left nav.
Step 4 – Click Add a rule and choose Create a new rule from the drop-down menu.
Step 5 – Set the conditions as follows (see image on the right):
Name: give the rule a name e.g., "BCC meeting room invites to Ronspot"
Apply this rule if: choose

The recipient is

: select one or more target meeting rooms
Do the following:  choose
Blind carbon copy (Bcc) the message to: type in bookings@ronspot.ie and the tap the tab key to complete the entry
Click
Step 8 – Click Next
Step 9 – Click Next (i.e., accept defaults)
Step 10 – Click Finish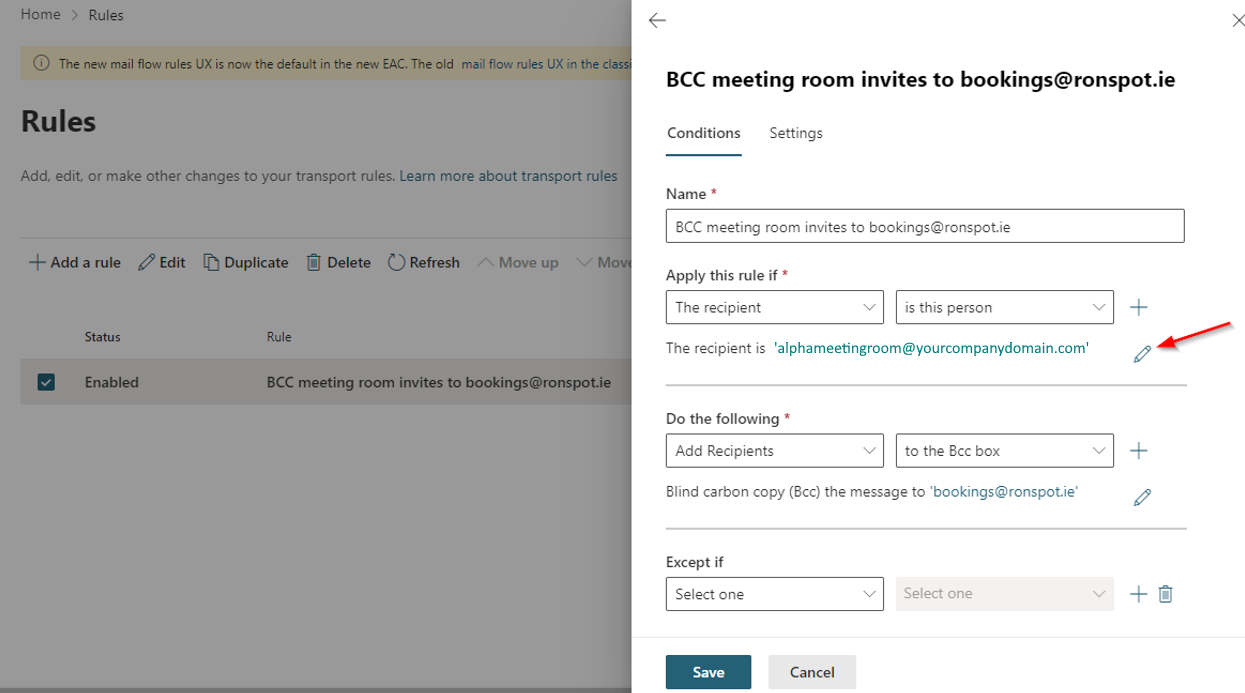 Note:
the steps above show how to add a new rule, however your organisation may already have a similar rule already AND/OR your organisation wants to update the list of meetings rooms to BCC send calendar invites to
bookings@ronspot.ie
, in either case you will need to edit that existing rule, see screenshot.